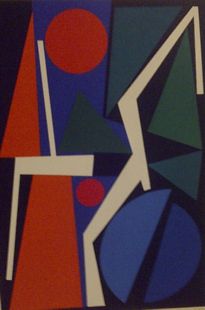 Auguste Herbin weavers family of workers born in Quiévy town near the Belgian border in 1882. However, the artist considers Le Cateau as his hometown because there are going to live his parents in 1883. There he spent his youth and obtained his diploma at the end of primary school, attend school classes drawing Municipal and entered the Ecole des Beaux Arts in 1898 Lile.
The young artist moved to Paris in 1901. Start painting in the impressionist style, he participates in the Parisian salons (first exhibition in the Salon des Independants in 1905). In the Bateau-Lavoir, under the influence of Picasso, Braque and Juan Gris Cubism is geared towards, in the Salon des Independants in 1910, Herbin out in the same room with Fernand Leger, Albert Gleizes. Two years later the artist participated in the important exhibition of the Golden Section (1912). Auguste Herbin gives the angular geometry shapes and painted his first abstract paintings in 1917. But he decides to leave the cubism, two years later, he deprecated Cubism. His paintings of geometric tables are poorly received by critics.
Doubting his art and advised by Léonce Rosenberg (gallerist and Merchant) Herbin figurative style returns between 1922 and 1925, a period which later renege. In 1927 he finally discovers the geometric abstraction "pure" make his monumental trend in the future. In 1929, Auguste Herbin is the founder of the "Hall of Sobreindependientes."
In 1960, 78, dies in Paris brutally putting finishing one of his canvases bearing the title 'End'.