See available works
(Valencia, 1942) Spanish painter and sculptor. Manolo Valdés Blasco was born on March 8, 1942 in the city of Valencia. He attended high school at the school of the Dominicans in his hometown. In 1957, upon completion of such studies, he entered the School of Fine Arts of San Carlos. Overly academic training imparted therein should not satisfy you too because, just two years later, he left this institution to devote himself entirely to painting.
Already in the first works executed shortly after leaving school-debtors of a dying formally abstract expressionism, the young Valdés demonstrated creativity and technical skill-formal out of the ordinary. In 1962 he presented a series of works in this style in Madrid Nebli Gallery, which marked his first solo exhibition.
Also, in the early sixties, Valdes, along with artists Gorris, Juan Antonio Toledo and Rafael Solbes, among others, and the art historian Tomas Llorens, was the group Estampa Popular de Valencia. At a time when the country, albeit timid, opened to the market economy, said group advocated redefining the role of art and the artist in the context of the Spain in the process of transformation. For them, the new artistic expressions, as well as nascent echo that socioeconomic status, should take into account the language and visual resources from the mass media.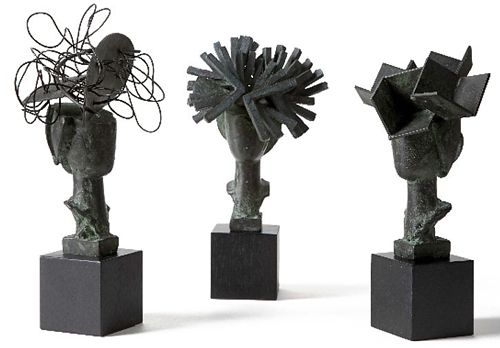 In 1964 Manolo Valdés, Rafael and Juan Antonio Toledo Solbes split from Estampa Popular and formed Team Report. A year later abandon the project Toledo and it would, until the death of Solbes, in 1981, in the hands of the first two. Recap Team, influenced by the debates within Estampa Popular, emerged as a critique of individualism and romantic image of the artist genius. Hence the idea of dissolving the personality of the artists under a collective name, while anonymous.
Although from the first exhibitions were not lacking voices that questioned suspicious that working collectively, it was said that the group was who thought Solbes and Valdés-who painted, the truth was that the duration of his career, both conceptualized and painted by equal. Muzzle Valeriano, specialist equipment both chronic and Manolo Valdés and corroborate it: "His work was collective in all aspects, both participated in the discussion and implementation of the works on the same footing, and that was precisely one of the reasons why your singular fortune acquired language. "
From the first moment, and in a sense similar to pop art made by the English and American Chronicle Team considered that the images, and from high culture and mass culture of, were essentially a communicative vehicle. For both artists, an image from the film, comics or magazines had the same value as a graphic reproduction of a painting by Velázquez, Van Gogh or Picasso.
This conception is not categorical visual image will be that, ultimately allowed antithetically descontextualizar and combine different representations, thereby generating different meanings to those who had originally and separately.
This marriage of composition, far from being an attractive visual game, will the strategy through which the Team Report screen his ironic, if not critical, the reality of the time. However, this "critical realism" that defined his work some students will not be his only field of interest: Autopsy series as a trade (1969-1970), The subversion of signs (1974), The Pool (1977 ) or transition Chronicle (1981-1982) review and reinterpret statutes own pictorial tradition.
In 1981, when they were working on that in the end would be his last series, Public and Private, Rafael Solbes died. In those difficult times personally, Manolo Valdés was compounded by the uncertainty of deciding how and where to continue his career. He could choose to continue with what had been the Team Report (alone or in the company of another painter) or undertake path alone.
He chose the latter option. The first exhibition held after the death of Solbes was at the Maeght Gallery in Barcelona in 1982. He presented a series of paintings and sculptures that were reworked, using different languages vanguard, the famous portrait of Queen Mariana of Austria by Velázquez. In a similar vein to the Chronicle Team, that mix of disparate motifs and styles resulted in a Mariana transmuted to Mariana, and the manner of Picasso, Kandinsky and Miró, exceeded the historicist references to become a tribute to own artistic work.
Throughout the eighties, Valdés was bringing a new sense of pictorial treatment that progressively away from the ways of making legacy of his time in the Team Report. Although follow inspired great works of art history, narrativity or taste for irony and anecdote were disappearing after a painting increasingly dense and essential.
Through this encounter with the texture and matter, and yet never without departing from figuration, his work came to the painters technically informalistas as Millares, Tapies, Burri or Dubuffet. Furthermore, also in the same years, the sculpture was occupying an increasingly important role in its production. Although wood material would work more profusely, refused not explore the tactile qualities and formal lead, zinc, granite, alabaster, etc..
In 1989, seeking new creative stimuli, he moved with his family to New York City in which to live and work has continued since. In essence, during the nineties, Valdes continued in that line of work based on assimilation and reworking of objects and artworks.
However, and probably result from their long walks through the streets of New York, will have, in recent years, a growing presence of motifs from everyday life, such as shoes, shopping bags, perfume bottles, gloves, etc. . But these objects, like the Metropolitan Museum of Greek vases, or Picassos and Matisses of MOMA, or zurbaranes Velazquez and the Prado Museum-will only pretexts with which weave their works, excuses that will lead us to reflect on the art itself, on its forms, textures, materials and colors.
Between October 2002 and January 2003, the Guggenheim Museum Bilbao gave him one of the most important retrospectives have been made so far. The exhibition, curated by Kosme of Barañano, showed a selection of the most significant paintings and sculptures of his last twenty year career. Moreover, ARCO '03 presented his series in February Horta de Ebro