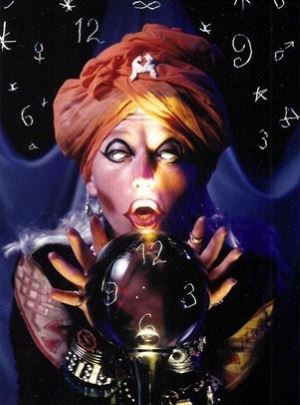 (Born January 19, 1954 in New Jersey) was born with the name of Sherman and Cynthia Morris is an artist, photographer and director of American cinema.
Sherman is one of the most important representatives of postwar photography in New York, he exhibited more than three decades of work at the Museum of Modern Art.
Artist, photographer, director of American cinema Turning the camera on herself, Cindy Sherman has been one of the most respected photographers of the twentieth century. Although most of his photographs are images of it, however, these photographs are not self-portraits. Sherman used herself as a vehicle for a variety of issues of the modern world: the role of women, the role of the artist and many more. Through a series of different works, Sherman has raised difficult and important questions about the role and representation of women in society, the media and the nature of the creation of art.
Beginnings
Sherman's life began in Glen Ridge, a suburb of New York City. His family moved shortly after birth, Sherman grew up as the youngest of five brothers in the city of Huntington, Long Island. Unlike other artists, Sherman was not particularly involved in the arts when she was young, her father earned his life as an engineer and his mother worked as a reading teacher. Sherman said he did not know what was the art world until he went to college. Although their parents lack of artistic interest, they supported his decision to enter art school after finishing high school.
Cindy Sherman became interested in the Visual Arts at the University of Buffalo. Sherman's career began in Buffalo very different from how it ended. In its first year, Sherman began working the paint until one day, he realized that was not enough. Frustrated by the limitations of painting and feeling that she had done everything she could, she gave up. Sherman said he felt that "... there was nothing more to say [through painting] was meticulously copying other art and then I realized I could only use the camera and develop my ideas with her," and this is what he did. Sherman acknowledged that could never have been successful as a painter. Lacking the critical connection they need to continue with painting, photography Sherman again, that was what he studied for the rest of his time in Buffalo. During this time, he met an artist Robert Longo will be very important in your life. Together with Longo and Charles Clough fellow student, Sherman Hallwalls formed, independent artists a space where she and other artists exhibited. After graduation in 1976, he decided to move to New York to embark fully in his career, in a loft on Fulton Street in Lower Manhattan. It was then that he began taking photographs of herself. These photographs, conceptual self-portraits, would come to be known as Complete Untitled Film Stills (1977-1980), one in which dramatized situations with costumes and props to give your photos the appearance of a film frame using aesthetic and own planes Film black. In another known series "Historical Portraits" Sherman impersonates male protagonists of classic paintings of the history of Western art, such as "Sick Bacchus" by Caravaggio, 2 among others. While Sherman pictured, she did not properly considered self-portraits: the Untitled Film Stills, perhaps one of his most famous Sherman's career so far work. In these photographs, which began in 1977, Sherman puts herself in the role of B-movie actress His photographs show characters constructed with wigs, hats, dresses, clothing unlike his. These photos can be confused with portraits but they are quite different. In each of these photographs, Sherman plays a roll, not a real person but a self ficticion - made. She is the archetypal housewife house, the prostitute, the woman in danger, the woman tearfully, dancer, actress and malleable, chameleonic Sherman plays all these characters.
Work
The time when Sherman became known as a photographer were many women artists whose work responded to the leer of a male audience. New York-based performance artist Hannah Wilke was a heavy weight during this period, often posing nude and openly enjoyed her erotic appeal. It was partly a willful character and partly a physical truth. Unlike exhibitionism Wilke, who used the nude as a liberation, Sherman has always been an artist of concealment, disguising since the mid-seventies to emulate pop fantasies. The nude was not part of his work although in the eighties, after the success of his photograms, photographs taken at its breasts and vulvas synthetic artificial added to a vicious divertimento male fantasy.
During the seventies, Sherman played a leading role in feminist restructuring of the body, movement originated and maintained by women. This generation believed that "the personal is political" and performance artists, mostly women, appropriated this axiom and transformed, in view of their achievements, something amazingly true based on the existing dysphoria gender. The Sherman own, especially in the beginning, created countless characters to be overwhelmed by the number of faces and bodies that could build using your own body. Its importance as an artist residing in this apabullamiento. In its deliberate attempt to reveal the interpretive nature of the female psyche, Sherman takes many and varied faces. Beings emerging from their brilliant transformations belong to the glamor of the film industry in the 30s and 40s, when female beauty was the key to selling tickets.
For some it would be easy to qualify Sherman's photographs as arbitrary; its theatrical effect would respond to their essentially artificial nature. Views of this mode, images lose their extravagant intensity and become critical to femininity as Hollywood represents. Although the artifice is an important stratagem trucages Sherman, also tries to express the truth of the pose. This creates a dialectic present in a more powerful way in his early work. As we shall see, in his last work the artist succumbs to resentment and a negative view of women. Sherman combines truth and artifice at the same time. It emphasizes the point that arises when a woman no longer knows if you are playing a role or revealing his own being.
The collection of frames Sherman implies a fairly obvious way, an imaginary redirection of women in a society ruled by men. Surprisingly and very effectively, it is maintaining decorum in the frames of small dimensions for which he is best known. But modesty is priced. The artist plays her gender so that calls attention to the subordinate role of women. From the eighties Sherman evolves as "fotografista". Awareness of subordination becomes impetus for a series of photographs whose content distills an overwhelming rage, as if the lovely image he adopted in his early work would avenge the accusation that women interpret their femininity to please men.
Given the huge difference between his first and his last efforts, it is necessary to separate both stages as best we can. Despite the obvious cleverness with which Sherman plays the lead role in his first collections of frames, they contain the innocence of youth; He is young and attractive, so taking photographs of herself pleasing from the point of view erotic at the same time, implicitly, are edifying. In the images themselves small-sized black and white at the beginning of the exhibition the Museum of Modern Art the scope of this balance is appreciated.
Overall photographs function as alternatives to the ordinary, the pedestrian being in which we rely for most passing day. There is an extraordinarily sexy photograph Untitled Film Still # 13 (1978) showing a blonde and voluptuous Sherman taking an art book from a library shelf. Despite holding the book, his gaze is not on the shelf but is directed toward something we can not see. His hair appears spilled over his forehead, as a head band tries to keep in order. Although not a picture for Playboy, it does have a genuine attraction to show the outline (dress) Sherman body. The lack of spontaneity, the certainty that has posed for the photo, introduces the notion of artifice, which strangely contains both true feeling of authenticity.
One of the most important differences between Nan Goldin, another American photographer, and Sherman is that the so-called authenticity of Goldin is the result of a reality produced by their own interest in sex, while Sherman is an artist whose recreations result something much more credible. The aura of fantasy Sherman somehow leads us to accept its opposite, that is, accept that what we see is real. This can happen because we are so used to seeing frames that we consider them as something more real than reality around us. The transformation is basic to the artistic personality of Sherman. Transforms your psychological garb from a supposedly innocent naivete to images showing, in a process of rising anger, a woman whose performances reach an almost mythological ferocity.
His early work
His early works attest to a simpler eroticism. Untitled Film Still # 14 (1978) presents Sherman with a black dress and pearl necklace in a room with a toilet and a table. We see the back of Sherman and a reflection of the table, with a glass of wine and a chair in the mirror directly behind her. His appearance, intensified by his hand on her cheek, looking alert, even slightly apprehensive. Again his gaze is directed toward someone or something we do not see. It defines the physical attractiveness photography, so that does justice to the love affairs of the films made a generation or two before their frames. Romantic poses are included in a number of his early pictures, but do not overwhelm the viewer. They are part of a set of emotional possibilities captured at the time expressing femininity without necessarily highlight feminism. Because they lack of ideology in the traditional sense, they are more about feelings, about psychology. Therefore they do not belong to more politicized art of his time, although it is clear that the issues concerned belong to the personification of the genre, seen by a woman performing for the pleasure of men.
The imagery itself is isolated, as Sherman appears almost always alone in the photographs, which intensifies and accentuates the morbid circumstances of not having friends or relatives with whom to interact. However accompaniment by another person would ruin the legendary isolation of most of the photographs, after all there as a demonstration of alienated, postmodern artist. We found some resistance in these images that go beyond the stylized accessories coquetry, to a place where something deeper going on. Although many of these pictures are about emotions, many of them affection is false, indicating the consequences somehow basically unreal or surreal, the supposed truth of the camera. To be talking about images of a young woman, we deduce easily that had not yet made a dent in it the hardships of experience. This means that art-the art of the photographs is sufficient to rescue the being who would become so irate in their maturation process. The reason of this happening seems to have few explanations or justifications. It just is. The experience of his last photos, determined as it is to interpret the woman from a very severe optic, leaves no clues to your audience can understand their work. It is as if, after the ugliness of their vaginas rubber or under makeup of the sexy blondes boat, still could fit a larger indignation. What would do to Sherman work this way?
ARTIFICIALITY
The photographs are given more gloomy late eighties and early nineties: they are frightening and grotesque. There is a huge gap between their frames and works made with synthetic parts of the body. The deliberate ugliness in art has a long history, however in the case of Sherman disfigurement is so extreme that somehow lost the ability to surprise. Sherman is overreacting to show your sense of decorum shattered, where images become examples of extreme malformation, to the point that they are no longer scary but absurd.
It has always been a surreal component in their sensitivity-the expectation invest frames suggesting a reality that ultimately is the product of the imagination. The image of a pair of rear with huge boils without title # 177 (1987) - deliberately want to offend our idea of physical dignity, our own dignity and the people in general. Much of the aesthetic power of Sherman comes from the idea that we're part of the general debacle of humanity, although it is easy to distance themselves from these alienated and ordinary photographs.
Despite the bad almost comical like the photos, it is clear that rely more on the construction of Sherman's imagination, that revelations of his psyche. In the first case, Sherman just shows her body in these images, so it is difficult to say who is talking about it. And in the second, the use of artificial parts contributes to a distanced reading of its meaning. Still, ulcerative skin and sexual extremism of these images brings us to the question of why anyone would want to even look at them, even taking into account based on the absurdity of the human condition, particularly of women. In Untitled # 250 (1992) face of an old and hideous woman, with a few blond hairs synthetic dotting an almost bald head, looks directly at the viewer. The arms holding the head are clearly made of wood, while the breasts with huge red nipples and a pregnant belly lead to a huge vagina without legs. The body rests on tangled hair, and is extremely unpleasant to face, as if Sherman was determined that this phase of his work had a cathartic function of some kind. But the monstrosity of these parts do not bother much rather are ridiculous, Sherman investigates a quality that throughout his career.
One can not imagine more distant from its beginnings that made her famous work. When I was 20 seemed to have solved the eternal dilemma of women, forced as it is to interpret its kind. There is a group of photos of the eighties in which Sherman represents, in color, a variety of poses: the idea seems to have been taken from film stills, almost all of his later work owes its tenacity and power to the innovations of its first project, but with a slight feeling of bitterness that later became real fury. In a great image, Untitled # 119 (1983), Sherman is portrayed as a middling singer, wearing earrings hanging plastic of artificial pearls, arms outstretched and mouth wide open. Lack of gender contempt of other photographs of the same period, why is more suggestive. This is a representation of moving type in which the role he plays is not alienating but rather appeased through some means absurd vulnerability. Another image from 1984, Untitled # 132, Sherman shows us in a business suit red and yellow stripes, with a cigarette in his left hand and a can of beer on the right. His face, though partially obscured, looking scared despite his half-smile. Again this is an image of an obvious vulnerability, but begins to form the idea of physical disfigurement as a sign of mental anguish or a wider, cultural deprivation level. The public Sherman does not know the reasons for this change, you can simply the artist's tired of maintaining a pose good person, as their impact on the grotesque begins in 1985 when a Sherman image appropriates a wig man and pork snout evening light.
TRANSGRESSION
From the point of view of behavior, the tension between Cindy Sherman good and bad shows that the interpretation of different roles has consequences not only for the audience but also for the artist herself.
Transgression takes place to remind us of the value of the performance, which since the mid-eighties to the early nineties becomes openly absurd, caricatured to the point of becoming ridiculous. In the late eighties, Sherman incorporates the imagery of the great masters, Renaissance imagery that is supported by the disfigurement as a way to censor the authority of the history of arte.Sin Title # 215 (1989) shows us a young priest wearing clothing of their profession; we see again a dull look in the distance, barely visible symbol on the hem of the skirt cross. In another work, Untitled # 183 (1988) Sherman plays the role of a midwife Renaissance, deep neckline to appreciate enormous fake breasts. Her dress ivory color contrasts with red lips Sherman, which is the only color in photography. In Untitled # 224 (1990), emulates Caravaggio. A Sherman bedecked dressed in toga holding green grapes in hand and in front of it on a table there is a bunch of red grapes. These descriptions give us an idea of how varied are the costumes Sherman and his creative ability, whose repertoire seems endless.
By 2000, Sherman makes clear that transvestism and deep irony would be his major themes, based on their relationship to the figure and the psyche of women. The images of clowns used from the beginning of the new century to the middle of the first decade of the century are aggressive and creepy to the point of being dangerous. His exaggerated makeup in primary colors match looks real malevolence. Such roughness dominates his work of the past decade, determined to relentlessly attack the dignity of women. It is a strange kind of misogyny, perpetuated by a woman who apparently doubts the value of women. One of the most horrific images part, again, the feeling of vulnerability. For example, in a photograph of 2000, Untitled # 359, we see a middle-aged woman with white makeup around his eyes and lips above false eyelashes are so high that you reach the front. Decorate your neck a diverse set of strings. The artist, with red lips, looks at the camera with a determination to please. This emotion is repeated image after image, inevitably, despite the obvious brilliance of Sherman to create new forms, he laughs anxiety caused women to be recognized as an object that is no longer attractive to men. The grotesque makeup distributed in thick layers make it a cartoon apparently sunburned, reaching the point of being unrecognizable.
His current work
In his most recent works, the past five years, we see an artist in years to continue stirring the archetype of women in society. The idea of a past beauty, now dead, appears frequently; vulnerability in many of his photographs becomes disgusting. For example, in Untitled # 465 (2008), Sherman is presented as a great lady on the outskirts of Central Park; She is wearing a strapless dress and a pearl necklace. We also see a huge slope. We can see wrinkles under the rouge on her cheeks and lips. His body turned half strongly points to the viewer, so look beside the Medusa seem harmless. The idea of bitterness does not seem very far and the role it plays Sherman unpleasant; He is very angry and ready to communicate that anger.
In another photograph, Untitled # 476 (2008), Sherman plays a wealthy woman dressed in a long red dress sitting color with a gray terrier puppy on her lap. His wig is silver and behind it we see a completely banal sea view. The image shows a person trapped in the comfort of your own success and might not be going too far if we appreciate a touch allegorical applicable to us and to the artist herself. Apart from its imaginary costumes, Sherman does not show great interest in art, but in his work of the past two years have demonstrated against the graphic work, usually of nature. In an image Untitled 2010 wearing a disguise vaguely reminiscent of a Cossack, a black eye and three linked chains hanging from his jacket. This happens on the left side of the photograph, on the right we see a long dark hair and dressed in a brown skirt to toe. After both figures are printing a road decorated with trees on both sides. The image is in black and white. In both cases, the look of Sherman is lost, does not record anything while looking at the viewer.
In a similar construction, also of 2010, the figure on the left wearing a transparent tunic over a blue dress with white flowers. In the photograph he looks tired, visibly aged. On the right side, Sherman wears a flesh-colored costume featuring nudity as a kind of absurd entertainment: costume includes at inflated breasts and pubic hair triangle. With a haircut delivery boy, Sherman holds a blatantly false sword. Behind the figure found what appears to be a scene of the nineteenth century, a lake surrounded by lush forest. The graphic imagery is back in black and white. The idea of myth takes shape, we realize that Sherman intended to represent a laughable mythology of being.
In recent work, it seems as if Sherman was not ending with a bang, but rather with a whimper. But Sherman has not yet reached the age of sixty, so it would be premature to characterize this as his farewell to the art. In his prodigious output of about 500 images the artist captures the story of femininity without succumbing to ideologies. Or so it seems. Under the disguises, under that imperious look, it seems that Sherman's ideas about wanting to be loved and accepted have a certain subversive quality. Women learn the kind of behavior that mocks Sherman is not as if GM were ready to please. In a sense, this art is radicalized by the idea of vulnerability that involves therefore can not be said that Sherman is limited to disguise himself. She interprets and embodies the same time the behavior of their gender. This is a theater that becomes so real that political realism comes in photography. This is not the obviousness Art Sherman, but its deeper content. In fact it is something that the viewer must guess, since the context is never clear. Rage of Sherman's photographs are imbued is much more accessible, but it is a distant effect. The actual Sherman is somewhere between the quackery of their costumes and the vulnerability of their mythical characters, someone who clearly belongs to the annals of the history of contemporary art.