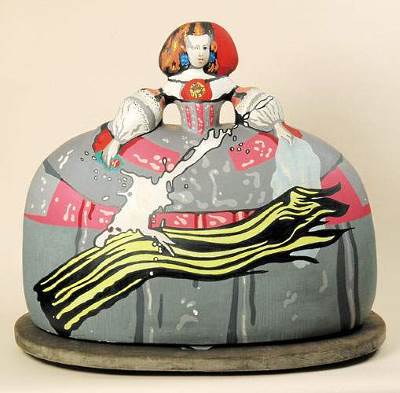 The Equipo Crónica is the most representative of Pop Art in Spain artistic group.
It was formed initially by Manolo Valdés ( 1942 ), Rafael Solbes ( 1940-1981 ) and Juan Antonio Toledo ( 1940) , who soon left the group , from the theoretical proposals art critic Tomas Llorens.
Popular Stamp from Valencia , and marked by a social concern that leads them to become chroniclers of social , cultural and political events that shook the country, The Equipo Crónica founded in 1964 , is situated close to pop art and new Parisian figuration using at will broadcast the images of mass media and new situations recomponiéndolas in trying to respond to the relationship between art and society in Spain turbulent sixties.
The History of Pop Art Team takes the use of spot colors , the depersonalized drawing and art as a means of mass communication. His work emerges as critical to individualism and his works are characterized by being performed in series. Its theme involves a socio-political content, it coincides at a time of American expansionism (Vietnam ) and the Spanish dictatorship. It is also a reaction against other groups dispersed as Dau al Set or Team 57 . Many of their songs are inspired by the Spanish was the Golden Age painting but inserted in contemporary society .
The group experienced an evolution in the early 1970s , for leaving the rigor of drawing and the line to make more types of compositional paintings and trompe l'oeil effects . In 1981 activities were interrupted by the sudden death of Rafael Solbes.
The work of Equipo Crónica becomes more important with the passage of time and without changing the configuration does not understand Spanish from the seventies. The pictorial production Recap Team, limited to 17 years is disappearing from the market and goes to swell the major public collections in Spain and Europe
Museums and Collections: - Centro de Arte Reina Sofía National Museum MNCARS , Madrid - CAC Contemporary Art Centre Málaga , Málaga - Patio Herreriano . Spanish Contemporary Art Museum , Valladolid - Valencian Institute of Modern Art ( IVAM ), Valencia