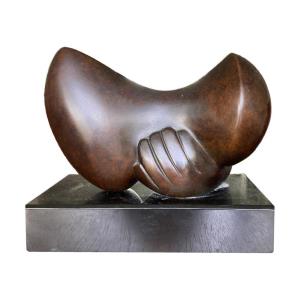 (1910-1993). At the age of seventeen, with the illusion of continuing his vocation, and thanks to a grant from the Provincial Council, he decided to go to Madrid, to enter the Academy of Fine Arts (which he soon left disappointed), and immerse himself in the cultural climate of the city capital, full of modernizing vitality.
Although the opportunities for a young artist with a precarious life, such as Lobo's, were scarce, and he barely managed to access information restricted to certain experts, it was then that he discovered Picasso and the international avant-garde; he visited exhibitions, became interested in Soviet cinema, traveled to Spain and even to Paris, and was enthusiastic about the Iberian sculpture of the Archaeological Museum, the great artistic discovery of his youth.
The end of the war in 1944 was the starting point of his maturity as a sculptor. He immediately made himself known in the first exhibitions of the postwar period, with which an euphoric Paris celebrated his liberation. His artistic baptism took place in the most massive and joyous of them all, L'art en liberté, a symbolic title, since the theme of freedom was to become ubiquitous in his artistic imagination.
Since the 1950s, his presence in the artistic life of Paris became recurrent, hand in hand with the Villand & Galanis galleries, first, and Daniel Malingue, later, also working with the dealer Nathan from Zurich, who, in 1984, took charge of the publication of the catalog of his work.
Between 1956 and 1966, his body of work was oriented in a new direction, more radical, refined and abstract, to represent - through solid and serious volumes, simple geometries and impeccably smooth surfaces - elemental and embryonic life (Cabeza de gitana, El despertar, Pájaro herido), and where the confluence with the best European sculpture of the moment is felt, from Hepworth to Arp, all of them followers of the Brancusian myth of the pure form.
In the final decades, a thematic dissociation that underlay from the beginning, flight and sleep, was accentuated in his work, and which was reflected in new series, dedicated either to the motive of elevation and the upward impulse, as in the cycle of Cara al Viento, undertaken in 1977, or else it dealt with the theme of stillness and self-absorption, the static world of the sleepers, as in the bathers in En la Arena, explored in the last years of his life.
SOURCES: Real Academia de la Historia (translated)