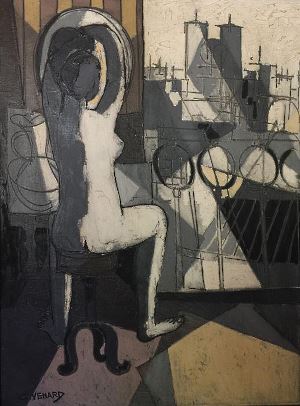 Claude Venard was a French post-Cubist and still life painter. Known for working in a distinctive angular style, he accentuated the chromatic qualities of his palette through thickly applied impasto paint.
Born on March 21, 1913 in Paris, France the artist enrolled at the École des Beaux-Arts, but abandoned his studies after only two days-instead, his arts education would come from his job repairing paintings with a master restorer at the Louvre Museum.
In 1936, Venard participated in a group exhibition for a new art movement that derided the avant-garde in favor of a return to strict and traditional principles of craftsmanship: the Forces Nouvelles, a group which included the painters Pierre Tal-Coat and André Marchand. Eventually Venard would rebel against them, forging his own post-Cubist style utilizing a wide color palette applied roughly with a pallet knife, creating a visceral, "raw" strain of the geometric aesthetic. Throughout the 1950s, Venard's paintings became more abstracted, as evidenced in Still Life(1955–1956).
The artist's works are included in the permanent collection of the Modern Art Museum in Paris, the Tate Gallery in London, the Metropolitan Museum of Art in New York, and the Tokyo Museum. He died in Savary, France in 1999.
(Source: Artnet)