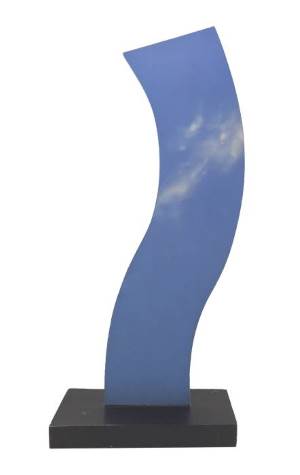 Painter. Son of Luis Alberto Blanco and Olivia Salazar. His work is nourished by the study of geometry and nature. At a young age he made trips to the Amazon, when his contact with the natives and the observation of nature would influence his landscapes. In 1988 he participated in the I National Salon of Plastic Arts in the MBA with Peripowee (acrylic on canvas). On that occasion, Juan Calzadilla commented: "Blanco stood out for his singular vision of the landscape and for a very safe technique with which he took up the theme of nature from an introspective and at the same time visually symbolic point of view". He has participated in other collective exhibitions such as the XVII Biennial of Cagnes-sur-Mer (France, 1986), Contemporary Art Center (Caracas, 1987), XLVI Arturo Michelena Hall (1988), Galerie du Dragon (Paris, 1988), House Guipuzcoana (La Guaira, 1988), Center of Fine Arts (Maracaibo, 1990), Virginia Miller Galleries (Coral Gables, Florida, United States, 1993), Art Miami 94 (Miami, Florida, United States, 1994), MACMMA (1995 ) and "De NuevoEl Ávila" (Galería D'Museo, Caracas, 1997), among others.
Individual exhibitions:
1986 Municipal Council of the Federal District, Caracas
1988 Key Gallery, Caracas
1989 Minotauro Gallery, Caracas
1992 Minotauro Gallery, Caracas
Awards:
1988 Hermógenes López Prize, XLVI Arturo Michelena Hall
Collections:
1988 Hermógenes López Prize, XLVI Arturo Michelena Hall
Sources:
Calzadilla, Juan. Alberto Blanco (exhibition catalog). Caracas: Minotauro Gallery, 1992. Cinap, B 253.
Credits:
National Art Gallery (GAN) http://www.gan.gob.ve