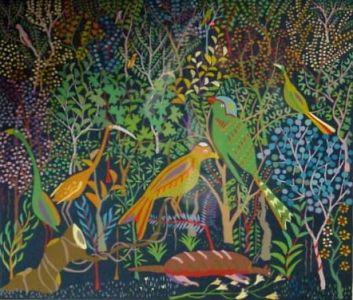 He was born in Naiguatá (Department Vargas) the 11 of November of 1920.
Ingenuous painter. Self-taught person. In 1945 he knew Arming Reverón, from that received the first advice on fabric preparation And use of the color. The discovery of Feliciano Carvallo in 1947 Indicates the beginning of the height of the ingenuous painting in Venezuela. An individual exhibition in the Free Factory of Art of Caracas, presented it in 1949. In 1955 the critic of Art Gastón Diehl Organizes a exhibition to him in the Cultural Institute Venezuelan French. From 1966 the works of Carvallo have participated in several International confrontations, like in the Gallery Villand & Galanis, Of Paris and in the exhibition "Ingenuous Present of carried out America" in the Museum of Modern Art of Madrid in 1967.
His ingenuous and simple visions of celebration of towns, episodes of The folklore, painted with colorful refined and harmonies resisted, Without never being based on the observation of the reality, Carvallo Adds to its power of invocation of myths and fables of poetic Enchantment that reflect an Afro-American world that comes to him to his memory by ancestral route. The technique of Carvallo is of a rare Meticulousness in the representation of scenes with clear images of Decorative effects. Their pictures are based on the narration of an Anecdote. Carvallo has contributed with its work to enrich the Panorama of the popular painting that continues having in him one of the more representative Venezuelan artists.
His compensate: 1965: Honorary mention, Official Hall and prize Antonio Edmundo Monsanto, Hall Art.