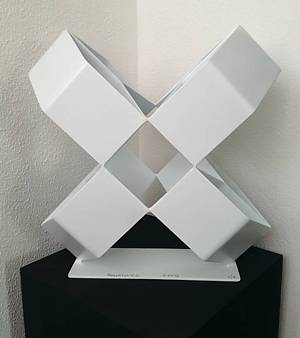 Painter and sculptor. He studied at the School of Visual Arts Rafael Monasteries Maracay and the School of Plastic Arts of Valencia Arturo Michelena (1958-1964). In 1965 he traveled to Europe and settled in Paris until 1972 Studied art at the University of Vincennes (France), with Frank Popper, and sociology of art with Jean Cassou at the Ecole Pratique des Hautes Etudes in Paris. Later he moved to Italy, where he remained until 1975 In the sixties participated in the XXI Lounge Arturo Michelena (1964), the X Lounge II d'Empaire and Aragua (House of Culture, Kolkata, 1962) Hall. From 1966 his work is exhibited in European collective, including in-Denise Davy Gallery (Paris, 1966), "Grands et Jeunes d'Aujourd'hui" (Museum of Modern Art in Paris, 1967), "Cinetisme, spectacle, environment" (House of Culture, Grenoble, France, 1968), the International Art Fair in Berlin (1971) and the Festival of Two Worlds in Spoleto (Italy, 1972). In 1971, his work Four double virtual cubes on black squares Arturo Michelena received the Prize (shared with Filiberto Cuevas) in the XXIX Hall Arturo Michelena. Within the constructive movement has achieved a double dynamic visual expression of the object, through neatly formulated which placed flat on vibrating metal structures. "Virtual Martinez increase their volume and actually decreases. A white rod vibrates dissolving its faint glow and slowly recrystallizing it in its original form" (Granger, 1973). Of his work, GAN has in its collection paintings on canvas and metal parts and welded iron and painted, dated between 1971 and 1976.
Solo Exhibitions
1965 The Golden Fish Gallery, Caracas / Ateneo de Valencia, Edo. Carabobo / Gallery The Park, Bogota
Operating Sync Center 1970, Brescia, Italy / Gallery of Naviglio, Milan / Gallery Graphic / CB2, Caracas
1971 "Virtual-touch" INCIBA Gallery, Caracas
1973 Sala Mendoza / "Virtual-touch", Gallery La Otra Banda, Mérida / Gallery Monte Ávila, Bogotá
1974 House of Culture Andrés Eloy Blanco, Maracaibo
1975 Gallery dei Mille, Bergamo, Italy
1976 Park Art Center, Valencia, Edo. Carabobo
1977 "Rafael Martinez. Recent Work", GAN / Soto Museum
1978 Public Library, San Cristobal
1979 Gaudí Gallery, Maracaibo
1981 Centre for Euro-American Art, Caracas
Corpoindustria 1982, Maracay / Engineer Art Gallery Oliver Rugeles Rolando Merida / Merenap Gallery, Merida
1984 Turf Club Carabobo, Valencia, Edo. Carabobo / "Dynamic Spaces", Swiss Centre, Caracas
1985 Gallery of Modern Art, Maracaibo / "Dynamic Spaces", Gallery Graphic / CB2, Caracas / House Negret, Bogotá / Terracotta Gallery, Valencia, Edo. Carabobo / Sketches Art Gallery, Caracas / School of Visual Arts Rafael Monasteries, Maracay 1990 "Spaces Sculpture", Museum of Culture José Torrealba Osto Apure Antonio, San Fernando de Apure
1994 Ateneo Jesus Soto, Tovar, Edo. Mérida
Awards
Painting Prize 1965, II Interuniversity Festival, Caracas
Award 1971 Arturo Michelena (shared with Filiberto Cuevas), Arturo Michelena Lounge XXIX Prize / Julio Morales Lara, Arturo Michelena XXIX Lounge
Job 1973, The Visual Arts II Living in Venezuela, MBA
Collections
Ateneo Boconó Edo. Trujillo / Banco Mercantil, Caracas / Biblioteca Luis Angel Arango, Bogotá / GAN / Mamja / Metro de Caracas / Open Air Museum Andrés Pérez Mujica, Valencia, Edo. Carabobo / Museum of Anzoategui, Barcelona, Edo. Anzoategui / Museum of Modern Art, Philadelphia, Pennsylvania, United States / Soto Museum
Sources
Boulton, Alfredo. Martinez (exhibition catalog). Ciudad Bolivar Soto Museum, 1977. Cinap, M 24.
Granger, Michael. "The Venezuelan sample." In: Image, Caracas 80, January-February 1973, p. 7.