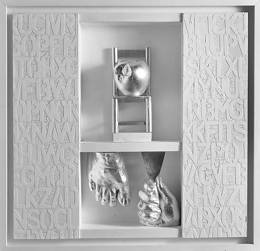 Sculptor and draftsman. Sign artistic studies at the Cristobal Rojas School in 1962 , with Rafael Ramon Gonzalez , Rodriguez and Regulus Alirio Perez , graduating at the mention of pure art in 1967. Initially adopted the sculpture as their mode of expression. Belgium Rodriguez commented on this stage as follows : " derived inclinations rather than to sculpture , to the three-dimensional work not in a traditional sense , but as he was interested in space exploration conceptual terms , physical and spiritual [ ... ] . sculptor and professor Pedro Briceño motivated him much to the welded iron sculpture , following codes of geometric abstraction in vogue in the mid -sixties . [...] from geometrical work , going to model [ ... ] , but above all is the influence of the sculpture by British artist Kenneth Armitage [ ... ] . volumetric sculpture opened immense possibilities for development, to the point that the experiences gained from the modeling technique will be reflected in the work created the late eighties, and especially in the parts boxes , walls nineties . During the seventies Herrera dimensional work becomes stylized, totemic have a configuration , while gradually moving towards a graphic expressed in certain drawings that participates in some official salons of the time " ( 1996 , p . 26-28). It is also noticeable the influence of Pop Art and geometric abstraction.
In 1968 he joined as a teacher of drawing and sculpture at the School of Visual Arts Martín Tovar y Tovar of Barquisimeto , minding his direction between 1974 and 1976 . Also teaches art history and art education in the basic cycle Eladio del Castillo of the city between 1972 and 1976 . Along with these activities involved with the group Symbiosis in the political-cultural experience at the popular level prompted the Movement for People's Creative Powers Nazoa Achilles . The activism of the time and internal misunderstandings lead him away from the sculpture from 1975 . In that context was dedicated to and illustrating magazines , pamphlets , producing political cartoons and scenery for popular theater in the context of political experience whose epicenter was the forum in defense of the city of Barquisimeto . However, since 1978, stimulated by Simon Gouverneur in regards to the graphics, Herrera takes definitely match the drawing. Between 1978 and 1980 , Herrera teaches at workshops in sculpture at the School of Visual Arts Carmelo Fernandez de San Felipe . Herrera 's intellectual restlessness leads him to be nourished by the reading of fantasy literature, which, together with Jacques Prévert , marked a milestone in regards dibujística rhetoric , narrative concerns his fantastic vision, magic and some resources of their symbolism , aspects he calls " visual word".
Since then Herrera starts drawing a pictorial character - metaphorical ways in which their meanings are conventional transporting an entirely different order in which they acquire new meaning , so that mimesis its way , now , to metaphor and this , in turn, to the unusual. Some of the expressive resources used at the time Herrera aim to craft a certain refinement of character that put it as one of the representatives of the so-called boom of drawing in Venezuela , so the richness of the shaded planes , tricks pictorial perspective volumes and chiaroscuro well defined , the folds and textures , rich tonal qualities and describe a rigorous and highly disciplined. Since then , Herrera is an iconography that certain alterations will accompany throughout his career : the human figure and the horses, which in most cases are represented showing their veins , muscles and tendons , the chessboard and some of his pieces , cards of different types associated with divining sciences , some architectural elements forming their inner landscapes and the presence of an eye assuming various positions in the table turns his gaze to the observer, are some of the recurring motifs . Subsequently, reliefs application starts his drawings , which calls Drawings - reliefs , extensive series where at times shaped spaces bear some affinity for the altars . Later, he went to work he called Scopes. Rodriguez says of them: " the domains were real physical compositions which , in a real and virtual , is telling a story , it was symbolically recreate the space of the old churches that invite meditation. Appears at this stage color competes with other elements such as a need to shed the drama of white and black . the story told in this sort of characters populated facilities , fragmented and torn elements that could be humans, birds , insects , fruits , flowers that populate the everyday objects vehemently expressed the drama that has always been the work of Felipe Herrera " ( op. cit. , p . 30 ).
A new rupture operates in the work of Herrera with the emergence of what he called Walls , from here is exaggerated , even more , the baroque style of his work and the theatrical nature of his compositions and start experimenting with some type of seriality , conserving time and rhetorical discursive narrative of his earlier work , with slight variations that tend to take advantage of the possibilities a new form of two-dimensional space and three-dimensional appeal. His references are photos, brochures , catalogs , booklets of anatomy, etc. . , Where it has already been processed from reality and dunk it in a two dimensional plane prior is then reworked by the artist. The accused perspective seen in some of its parts are not geometric constructions, most of the time , less concrete space but rather constructs an illusory space prepackaged , using for this the tricks of perspective. This, at times, make them blend their work alternately in the active plane , depth or perspective with passive or scenic plane . Architectural forms that sometimes the artist uses in his work come to be a mediator between these two planes used as a resource to increase their chances in an effort to locate the intricate assembly of his figures and arrive at a construction field personnel . The plasma Herrera imagination in his work creates a world that is associated metarreal reality indirectly by the use of symbolic and metaphorical , archetypal images associated fantastically once force the viewer to rework the speech exposed. Juan Calzadilla , to try to approach the analysis in the mid -eighties has the character of the work of Felipe Herrera , identifies a number of features that come close to a certain term " Hispanic " Surrealism : " the method of the fantastic view "" the development of a metaphysical still life " , " the process as invention "and" terrible place " as factors characteristic of the artist's work do Calzadilla say that" as a surreal, Herrera is a Latin Flamenco today " ( 1985 , p . 45 ) . More than a surreal, Felipe Herrera is a humanist steeped in fantasy and magic . In this regard , it should be noted that the work of Hieronymus Bosch inspired to some extent the first steps of the artist in the drawing. Throughout all his work , many of the faces that have their characters are transfigured , hidden , torn , owned by masks or shown sheepishly. Questions lucid , on the other hand , because in its symbolic swell no single solution to the mystery of life, but rather draws the viewer to delve into existence to meet this mystery that Herrera represents life. For this reason, his humanist vision uses dissection be to project the murky world of the subconscious using symbolic catharsis and delirium thought to support a project that is still destiny, utopia and possibility in the attempt to settle in the world .
Starting nineties Drawings series begins - boxes in which he dedicated himself harder, in experimenting with various materials (wood , plaster , glass, resin , sand , iron, in addition to ready-made objects like knives , chains and watches , etc.) , forming a mixed technique which highlights certain reasons serialized and subdivision and fragmentation of space. A plural surprising and intricate construction which has already been removed in some way , simply dimensional space and again suggests now more patent, the three-dimensional space with their assemblies and sculptural volumes that extend in the drawing, its objects and geometric figures that populate elaborate frames inside the work , pieces of wood, which are evidence of their explorations with space. In his last solo exhibition at the Art Gallery of USB ( " Hierophany : porch and mirror ", 1997 ) , Herrera presents a set of construction - assembly by way of a large facility which, according to the artist, represent a milestone in their production. The central theme that develops here is a confession of faith , represents the purification of a latent thought that has been present in his work. The Christian symbolism is taken by him from his essence. However, maintaining the symbolic richness observed in archetypal elements that have always accompanied . At times , besides the repeated recourse to continue drawing a sculptural volume , Herrera seems to return to proper volumes sculptural as well , an angel wings are made with metals drawn soldiers. This relationship drawing -sculpture , sculpture - drawing are the two poles that have occupied much of his artistic proposal , is , moreover , a test of conceptual soundness .
Solo Exhibitions
1968 " Sculptures " Caja Popular Gallery West, Maracaibo
1970 " Sculptures " , Ateneo de Guanare
1971 " Sculptures " , Center of Engineers , Barquisimeto
1982 " Some are of sand lime and other " Euro-American Arts Center, Caracas
1984 " Retrospective Exhibition " , Museum of Barquisimeto
1985 " The game tax " Euro-American Arts Center , Caracas
1993 " From icons and pilgrims ", Gallery Road , Caracas
1995 Felix Gallery , Caracas
1996 " The ax and shadow " , MRE
1997 " Hierophany : porch and mirror" USB
2001 "Dream rebuilt " , Embassy of Venezuela , Buenos Aires
Awards
1972 Sculpture Award , XXX Hall Arturo Michelena / Honorable Mention , Award Ernesto Avellan , Sala Mendoza
Emilio Boggio Award 1974 , XXXII Hall Arturo Michelena
Lions Club Award 1979 , XXXVII Hall Arturo Michelena / Second prize Fundarte Painting Gallery II , Caracas / Yaracuy Government Award , Regional II Living Artists, Acarigua , Edo . Portuguese
1981 Acquisition Prize , Salon of Young Artists, MACC -MBA / First Prize , Hall of New Nature , Museum of Barquisimeto
1982 First prize , I Fundarte Drawing Biennial , GAN / Prize Juan Lovera , XL Hall Arturo Michelena
1984 First prize drawing , IX Lounge Aragua, Maracay Art Museum
1985 Acquisition Prize , Third Biennial of Visual Arts , MACC
Collections
CANTV / Fundarte / GAN / MACCSI / MACMMA / Mavesa , Caracas / MBA / Metro de Caracas / Museum of Barquisimeto / USB
Sources
Calzadilla , John. " Felipe Herrera : Dissecting metamorphosis " . In : Image, 100-12 . Caracas, November 1985, p . 45 .
Rocca , Cristina. Towards a theory of the drawing : the Venezuelan case . Mérida: ULA , 1992 .
Rodriguez, Belgium. " Felipe Herrera , the alchemy of creational phenomenon " . In : Venezuela 96 . Caracas : MRE , April-June 1996 , p . 25-35 .
Credits
National Art Gallery ( NAG ) http://www.gan.gob.ve