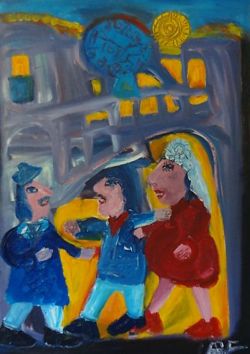 Antonio José Fernández (The man with The Ring)

'The Man with the Ring' is born out of the entrails of the land of Trujillo, Venezuela. Born in 1922 in the El Corozo sector from the Escuque municipality, Trujillo, his parents were Ana Maria Franco and Ramón Fernández; a family dedicated to agricultural labor. His father was also dedicated to the profession of masonry, with whom he learned to use materials such as sand, concrete, stone, etc., which he would utilise later on throughout his sculptural body of work.
When he was 15 years old he crafted his first sculpture in clay, which was a doll that resembled a rancher from his lands titled "Don Salomón", who wanted to throw the artist in jail given that he considered it to be a mockery. His father, who sometimes laboured as a mason fixing the coffee yards on the aforementioned ranch, had to intervene in order to defend his son.
Between the years of 1948 and 1952, he dedicated more time to his artistic creations; at the same time, he was also in charge of selling vegetables at the Valera Market (Mercado de Valera). It's here in 1963 where Fernández, as a gesture of cultural solidarity and maybe to let himself be known as a sculptor, has the idea of gifting a concrete statue to the Varela School (Liceo de Varela). The directors of the school - out of ignorance more than anything else - rejected the donation of a man who, years later in 1998, receives de Popular Culture National Award (Premio Nacional de Cultura Popular) presented by Conac. The Man with the Ring considered the teachers' conduct as a sign of contempt and, enraged, destroys his previous concrete artworks as a gesture of protest.
Antonio José Fernández was influenced by Salvador Valero - another artist from Trujillo, who dedicated himself to cement molds as well as painting.
According to the art critic Juan Calzadilla, Carlos Contramaestre (1933-1996) - medic, painter and writer - discovers him circa 1965 at the Valera Market. However, this is an affirmation that isn't held up by reality; firstly, because The Man with the Ring wasn't discovered, as his art proved to be popular and was already known throughout the villages of Trujillo. Secondly, the so called "discoverer" already knew him for a long time previous to this date, during the 1950s, when Carlos Contramaestre was studying medicine at the ULA, as Contramaestre initiated his exhibits at Valera's AVP in the year of 1951, in a collective alongside Salvador Valero (Fernández' only teacher), Marcos Milani and Renzo Vestrini. Afterwards, Contramaestre was a rural doctor between 1959 and 1962, working in some of the towns within Trujillo and specially in Escuque, the town where Fernández came from.
One thing to recognise is that the artist Carlos Contramaestre - ideologist and active within Caracas, belonging to the group/gallery denominated "Techo de la Ballena" - was the one who organised him an exhibit there in 1965 within this group, which was the first individual exhibit by our 'paisano' Antonio José Fernández.
The Man with the Ring was an extraordinary popular painter, a passionate sculptor who worked with cement, joyfully coloring its shapes, making mixed-technique creations, utilising rubbish and paper, making bas-relieves with wood - of which, perhaps, the most relevant one lies in the National Art Gallery (Galería de Arte Nacional). One day I told my friend señor Fernández, just like I used to: "I want you to make me something from your own creation in wood", to which he replied: "Bring me a nice cedar plank, but make it pink". I never got to bring him the plank which was given to me as a gift in an Escuque field; given that one day in the year 2006, I received the news that a group of criminals had cruelly murdered The Man with the Ring, in his own household at Carvajal.
The Man with the Ring lived alone; he had one of those dogs that we call 'guines', and some hens with their rooster, roaming freely in the yard. He barely had any domestic furniture; I once saw a small, individual metal bed of his in which he slept, a couple of chairs made out of wood and leather and a wooden table where he displayed his small sculptures in a tiny living room where his paintings were hung for sale.
On one occasion, he proudly showed me a badly tattered military notebook; it was a register of his military service for an army battalion in the state of Táchira, where he told me he took to the role of nursing. "I'm showing it to you because we're friends; I seldom ever show this to anyone".
In order to be able to speak with The Man with the Ring, it was necessary to knock firmly at the door, and to tell him who it was from the outside; given that, for personal reasons, he used to lock the door from the outside, in order for people to think that he was not at home.
The Man with the Ring was also a creator of poetry, with philosophical tendencies. One day he surprised me with a gift: a poem titled "Cries & Laments" (Llantos y Lamentos). Its text is as follows: "Laments don't wake up the dead from their deep, eternal slumber given that everything in this world is nothing more than fantasies and deceits where we human beings reside" ("Los lamentos no despiertan a los muertos de su eterno y profundo sueño porque todo en este mundo no es más que fantasías y engaños en que vivimos los seres humanos.").
INDIVIDUAL EXHIBITS
1965 - El Techo de la Ballena, Caracas.
1967 - XX2 Gallery.
1968 - Ángel Boscán Gallery.
1968 - Central University of Venezuela Gallery (Galería de la Universidad Central de Venezuela), Caracas.
1970 - Caracas Athenaeum (Ateneo de Caracas).
1970 - Salamandra Gallery, Caracas.
1970 - La Otra Banda Gallery, Caracas.
1972 - Gaudy Gallery.
1975 - Sala Ocre Gallery, Caracas.
1977 - Sala Ocre Gallery, Caracas.
1979 - University of Zulia Visual Arts Gallery (Galería de Artes Visuales de la Universidad de Zulia).
1983 - La Cayapa Gallery, Caracas.
1987 - "Bárbaro Rivas" Petare Popular Museum (Museo Popular de Petare "Bárbaro Rivas"), Caracas.
AWARDS
1985 - CONAC Award (Premio CONAC). VI Popular Art Hall (VI Salón de Arte Popular), Fundarte, Guipuzcoana House (Casa Guipuzcoana), La Guaira, Vargas..
1994 - Bárbaro Rivas Award, IV Bárbaro Rivas Biennial.
1998 - Popular Culture National Award (Premio Nacional de Cultura Popular), Caracas.