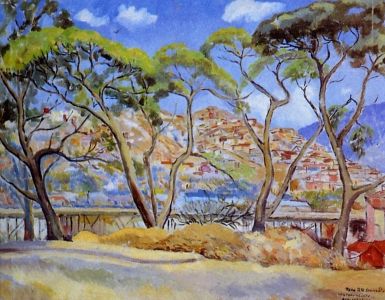 Born in Yungay Chile, in November 12, 1903, came to Venezuela in 1936 with the Chilean mission, hired to teach in the Escuela de Artes Plasticas. Died in Caracas in 1959.

Studied in the Academia de Bellas Artes in Santiago de Chile and Paris, where he lived between 1930 and 1934. Returned to Venezuela in 1948 under a contract for teaching in the Escuela de Artes Plasticas.
In his first expressionist stage his work is doughy and without luminosity. After 1948 he changed his style influenced by the Circulo de Bellas Artes Painters, being interested for light and a local and pictures queue motivation, (rural and urban landscapes, still life). Enrique Planchart pointed Lira's Venezuelan works as drawing large scope, truly beautiful warm tones, and the euphoria of a general intonation.
Armando Lira is being exhibited in the Museo de Bellas Artes of Caracas; Toledo Museum Usa; Museo de Bellas Artes, Santiago de Chile; Museo de Arte Contemporáneo, Santiago de Chile University and Museo de Montevideo, Uruguay. In 1960 was realized an exhibition to pay homage to Armando Lira at the Museo de Bellas Artes.
Awards:
1925: Honorific mention, Santiago de Chile Official Hall.
1932: First category award, Van Buren contest, Santiago de Chile
1940: Gold Medal, Buenos Aires Hall, Argentina
1941: Presidente Pedro Aguirre Cerda Honor Award, Santiago de Chile
1956: National Painting Award, Official Hall, Caracas