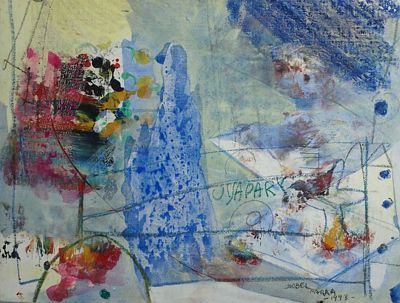 Born in San Felix, Edo. Bolivar in 1972. Lives and works in Caracas. Venezuela.
Studies
1989-92 School of Visual Arts "Cristóbal Rojas". Caracas. 1993-2006: Founding member of the Create Foundation 10. Caracas. 2007: Founding member of the Foundation Creates 4. Caracas 1993-1996
Group Exhibitions
National Art Exhibition Aragua. Art Museum of Maracay. 1995: Hall Juan Lovera. Municipal Visual Arts Award. 1995: Young Artists II Salon Pirelli. Museo de Arte Contemporaneo de Caracas "Sofia Imber." 1995: 53 Visual Arts Exhibition "Arturo Michelena". Valencia. 1995-1997: III-IV National Biennial of Plastic Arts of Puerto la Cruz. 1997: XIV Festival of Youth and Students, La Habana, Cuba. 2000: Mon Petit Art Gallery. Eleven proposals. Eleven Artists. San Juan Puerto Rico. 2001: Gallery Galica. Winds in the Caribbean. Milano, Italy. 2001: New Faces of National Plastic. Monagas. Fundación Banco Industrial de Venezuela. 2002: Art Gallery of Mexico. Chicago. USA. 2002: II Latin American Meeting of Artists. Cuzco, Peru. 2002: Exhibition of Works of Art Venezuelan artists in the "Metropolitan Club of Chicago" and Ultimate Art, LLC. USA. 2003: II International Art Exhibition Bolivia. Cochabamba, La Paz, Bolivia. Sucre International Festival 2003. Bolivia. 2004: San Agustin Museum and Design Estampa Carlos Cruz-Diez. 2006-2007: Tribute to Armando Reveron, Ateneo Punto Fijo, Falcon. 2005-2006-2007: II Auction Fundana, Banesco City, Caracas. 2006: I Art Auction "Dishes for Life", Gallery FREITAS, Caracas. 2006: XIV Festival of Latin American culture Holguin, Cuba "From North to South." Holguin, Cuba.
Solo Exhibitions
1996: "Children's Mosaic." Epatium Gallery. Caracas. 1997: "Memories of Childhood." Leo Blasini Gallery. Caracas. 2005: "Recent Painting" Gallery Venezuela. New York. Rewards • 1995: II Honorable Mention of the City of Caracas. • 1995: Prize of Painting "SEMORCA." III Bienal de Artes Puerto la Cruz.