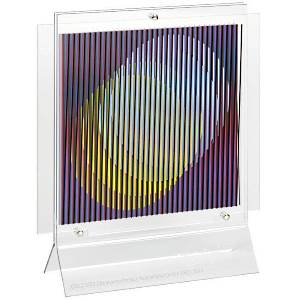 The Franco-Venezuelan artist Carlos Cruz-Diez (Caracas, 1923) has lived and worked in Paris since 1960. He is a major protagonist in the field of Kinetic and Optical art, a movement that encourages "an awareness of the instability of reality." His body of work has established him as one of the key twentieth-century thinkers in the realm of color.
Carlos Cruz-Diez's visual art explores the perception of color as an autonomous reality evolving in space and time, unaided by form or support, in a perpetual present. His artworks are housed in prestigious permanent collections at institutions such as:
Museum of Modern Art (MoMA), New York
Tate Modern, London
Musée d'Art Moderne de la Ville de Paris
Centre Pompidou, Paris
Museum of Fine Arts, Houston
Wallraf-Richartz Museum, Cologne
Biographical Chronology
1923 Born on August 17th in Caracas, Venezuela.
1940 He studied at the School of Fine Arts in Caracas, where he obtained the diploma of professor in Applied Arts.
1944 Worked as illustrator for the publication El Farol of the Creole Petroleum Corporation, as well as for other magazines such as La Esfera and Élite.
1944 He made comics for various newspapers.
1946 Creative director of advertising agency McCann-Erickson, Venezuela.
1947 He travelled to New York for an advertising training course.
1947 He held his first personal exhibition "12 gouaches de Carlos Cruz- Diez" at the Instituto Venezolano-Americano in Caracas.
1953 Illustrator for El Nacional newspaper.
1955 Settled in El Masnou, Barcelona, Spain.
1955 He travelled to Paris and saw the works that were exhibited at the exhibition "Le Mouvement" at the Galerie Denise René.
1956 He exhibited at the Galería Buchholz in Madrid where he presented the series Parénquimas and Objetos Rítmicos Móviles.
1957 He founded the Estudio de Artes Visuales [Visual Arts Studio] for graphic and industrial design in Caracas.
1959 He created his first Couleur Additive and Physichromie.
1960 Settled permanently in Paris with his family.
1961 He participated at the exhibition "Bewogen Beweging" at the Stedelijk Museum in Amsterdam, Netherlands.
1965 He participated at the exhibition "The Responsive Eye", Museum of Modern Art (MoMA) in New York.
1965 Venezuela's general curator at the IV Biennale de Paris. He exhibits works by Alirio Rodríguez, Edgar Guinand and Carlos Prada.
1969 He featured Labyrinthe de Chromosaturation on the boulevard Saint-Germain in Paris.
1970 Personal exhibition at the XXXV Venice Biennale, Venezuelan Pavilion, Venice, Italy.
1989 He published his book "Reflexión sobre el color" in Caracas.
1997 Opening of the Museo de la Estampa y el Disen?o Carlos Cruz-Diez [Carlos Cruz-Diez Museum of Print and Design] in Caracas.
2007 Honorary Member of the Venezuelan Academy of Language, Caracas.
2009 He published the second edition in Spanish and English of his book "Reflexión sobre el color" in Madrid.
2011 He inaugurated his most important retrospective exhibition "Carlos Cruz-Diez. Color in Space and Time", at The Museum of Fine Arts, Houston (MFAH), United States.
2012 Rank of Officer of the National Order of the Legion of Honor, Paris.
2014 He published his memoirs "Vivir en Arte, recuerdos de lo que me acuerdo" in Paris.
Honors and Awards
1966 Grand Prize, III Bienal Americana de Arte, Universidad Nacional de Córdoba, Faculty of Science, Córdoba, Argentina.
1967 International Painting Prize, IX Bienal de Sáo Paulo, Sáo Paulo, Brazil.
1971 National Art Award, Instituto Nacional de Cultura y Bellas Artes (INCIBA), Caracas, Venezuela.
1981 Order Andrés Bello, First Class, Caracas, Venezuela.
1986 Rank of Officer, Ordre des Arts et des Lettres, Paris, France.
1992 Gold Medal, Norwegian International Print Triennale, Oslo, Norway.
1994 Rank of Commander, Orden Heráldica Cristóbal Colón, Santo Domingo, Dominican Republic.
2002 Rank of Commandeur, Ordre des Arts et des Lettres, Paris, France.
2006 Honorary Doctorate, Universidad Simón Bolívar, Caracas, Venezuela.
2007 Honorary Doctorate of Fine Arts, Universidad de Los Andes, Mérida, Venezuela.
2011 Golden Medal, Americas Society, New York, United States.
2012 Premio Penagos de Dibujo, Fundación Mapfre, Madrid, Spain.
2012 Rank of Officer of the National Order of the Legion of Honor, Paris, France.
2014 Doctor Honoris Causa, Universidad Central, Caracas, Venezuela.
2015 Turner Medal, City University, London, United Kingdom.
(Source: cruz-diez.com)