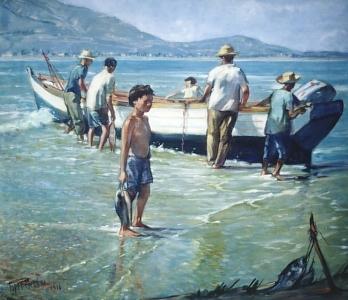 He was born in Caracas the 23 of November of 1901.
He studied in the Academy of Beautiful Arts of Caracas and, adolescent still was united to the group of painters who integrated the Circle of Beautiful Arts.
Painter advised by Boggio, from whom he received some influence towards 1919, Lopez Méndez made his first exhibition that same year, in the School of Music of the Academy of Beautiful Arts. Shortly after he undertook trip by different countries: Cuba, Mexico, the United States and France. Tie to the diplomatic and cultural activity. It carried out positions like the one of Director of Culture and Beautiful Arts, professor of the School of Plastic Arts and the one of Ambassador of Venezuela in Greece.


In his work it mainly shows a naturalistic eagerness based on the representation of the landscape, trees and flowers and next to the postulates of the School of Caracas.

Lopez Méndez is represented in the Museum of Beautiful Arts.