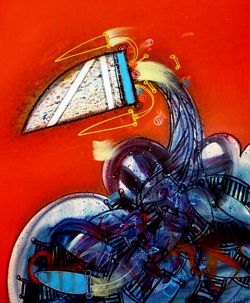 The work of Hugo Newton Surprises from a remote denominated region the Tiger, in the depths of the territory of Anzoátegui, already next of the fabulous Orinoco and surrounded by the technological watchtowers that extract wealth quoted in the planet in crisis like "el gold negro".
Newton has had two, three years, a flashing outer race in the last. It has gained many prizes; it has received honors and distinctions, its work by first time-the that is at heart more at first sight conclusive-begins to be recognized.
The work of Newton has undressed of the vices and mannerisms which they give off all the languages, because more personnel has become, has included/understood better its terms, the modulation of the language who arrives by an almost natural movement, instinctive.
1950: He is born in San Jose de Guanipa; Anzoátegui State resides in the Tigrito, Anzoátegui State.
Collective Exhibitions:
1968: Spiral Gallery, Caracas
1971: II South Hall East, State Bolivar. II National Hall Young Artists, Maracay, Edo. Aragua. I hall Nor.-Oriental de Pintura, Barcelona, Anzoátegui Estate.
1974: II Hall Conaotu, Cumaná, and Sucre State. I Hall Plastic Arts, Athenian of Caracas.
1975: National encounter of Young Artists, Maracay, Edo. Aragua. I SAW Hall Fondene Porlamar, State New Esparta. I SAW National Hall Young Artists, Caracas.
1979: Centre Humanist A.B. Gallery Rengifo, Caracas. Hall Michelena, Valencia, Edo. Carabobo.
1980: hall Michelena, Valencia, Edo. Carabobo.
1981: hall C/E, Milán, Italy. Hall Michelena, Valencia, Edo. Carabobo.
1984: II regional Biennial of Plastic Arts, Port the Cross-, Michelena hall, Valencia, Edo. Carabobo.
1987: Readings of the National Art, Gallery of National Art, and Caracas.
1989: Venezuela 89, Venzor Gallery, Chicago, Illinois, and E.E.U.U.
1991: Contemporary Venezuelan Art, Hong Kong.
1992: Ambrosino Gallery, Gables Chorale, Florida, the USA.
1997: Polychromes Organic, Gallery Forms, and Maracay.