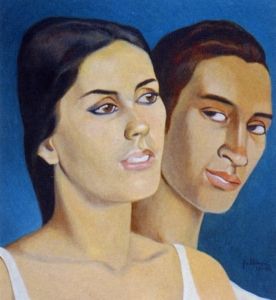 Born in Panaquire, Miranda state, in June 15, 1910 studied at the Academia de Bellas Artes, which became The Escuela de Artes Plásticas in 1936. Here, he worked as professor and later became his director. Among his teachers with great importance in his education we find Marcos Castillo, who linked him to the renovation stream initiated by the Circulo de Bellas Artes.
After his exhibitions in the Museo de Bellas Artes in 1945 and 1949, Fabbiani spend a season without painting, performing after in the same Museum in 1961, a new exhibition of his work.
Single exhibitions:
Acquavella Gallery, 1965
Polo & Bot Gallery, 1967
Bellas Artes Gallery 1968 and Li Gallery, 1972 and 1973
Awards:
1945: Official painting award
1949: Artes Plásticas National Award, Official Hall.