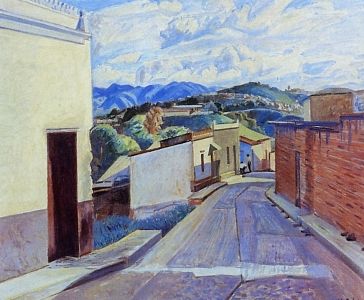 Born, in Barcelona,Spain, in January 25, 1890.
Studied in the Academia de Bellas Artes of Caracas, receiving lessons from Herrera Toro and Mauri. Also, he was his father (Angel Cabré y Magriña) pupil. In Paris he attended the La Grande Chaumiére and Colarossi Academies. He was founder member of the Círculo de Bellas Artes in 1912, along with Edmundo Monsanto and Leoncio Martínez.
Painter. The critics agreed to name Manuel Cabré as one of the greatest Venezuelan landscape master.
In 1920 performed his first single exhibition consisting of 119 paintings, be longing to his firststage that same year went to Paris where stayed to 1930. At his return to Caracas performed a second exhibition consisting of his paintings made in France. In 1941 in the Planchart Hall. Obtains The Salón de Arte Venezolano painting award in 1948. From 1942 to 1946 performed as director of the Museo de Bellas Artes. In 1965 were organized an important retrospective show of his work in the Fundación Mendoza Hall. In 1971 The Museo de Bellas Artes organized a retrospective exhibition.
He is represented at The Museo de Bellas Artes
Retrospective exhibitions: Fundación Mendoza expositions Hall, 1965; Museo de Bellas Artes, 1971.
Awards: 1944: Aristides Rojas Award; 1951: National Painting Award; 1955: Antonio Herrera Toro Award; 1956: Rotary Club award.