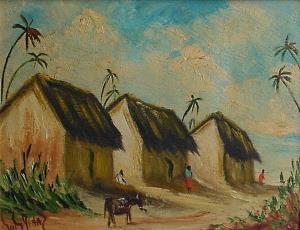 Venezuelan painter. He studied night courses at the Academy of Fine Arts (Academia de Bellas Artes, Venezuela). In 1938 he was the co-founder, alongside fellow artist Rafael Monasterios, of the School of Plastic Arts of Barquisimeto (Escuela de Artes Plásticas de Barquisimeto), where he was a professor of sculpturing for four years. In 1941 he moved to Caracas and began painting traditional landscapes on cardboard, sheets of metal and canvas. Some of the highlights during this period include works such as Maternidad (1939), Naturaleza Muerta (1939) and Retrato de Teresa (1942).
In 1941 he won First Prize at the Hall of Plastic Arts of Santiago de Chile (Salón de Artes Plásticas de Santiago de Chile), when he travelled alongside 46 of his works on canvas by the ME, on the occasion of the fourth centenary of that city. After his return to Venezuela he immerses himself in alcoholism and his works are sold at prices well below their market value. In May 1953 he was admitted to the Psychiatric Hospital of Caracas (Hospital Psiquiátrico de Caracas), time in which his artistic technique changed and his imagery acquired a vertiginous light and color.
In 1966 he made his first individual exhibition at the Gallery of Modern Art (Galería de Arte Moderno) (Caracas), and, in 1971, the Bellini Gallery (Caracas) organized a retrospective exhibit of his life's work. After 24 years of confinement at the Psychiatric Hospital, he passed away due to cancer. In 1979, the Education and Culture Commission of the Sucre District Council and the Jermán U. Lira de Petare House of Culture (Miranda) organized a pictorial exhibit as a tribute to Ordaz. The GAN owns Ordaz paintings such as Jarrón con Flores (1932) and Horno para Hacer Ladrillos (1948).
SELECTION OF INDIVIDUAL EXHIBITIONS:
1966: Galería de Arte Moderno, Caracas.
1968: Hospital Psiquiátrico, Caracas.
1971: Galería Bellini, Caracas.
1976: Galería Arturo Michelena, Caracas.
SELECTION OF AWARDS RECEIVED:
1941: First Prize, Salón de Artes Pláticas, Santiago de Chile.
Sources: VEREDA.