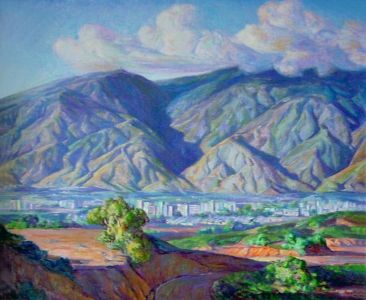 Born in Santa Ana del Norte, Nueva Esparta State, on September 9, 1901. Performed drawing and painting studies in the Academia de Bellas Artes of Caracas, where he entered as founder professor of the taller de artes gráficas since de reform of this institution in 1936.
Painter having dedicated from the beginning to landscapes, influenced by Antonio Edmundo Monsanto as a graphic artist was also of the first artists popularizing the metal engraving techniques. In 1921 made contact with members of the Circulo de Bellas Artes, from who obtained stimulus to dedicate to the landscape style.
He is represented at the Museo de Bellas Artes and at the Washington congress library.
Single Exhibition:
Acquavella Gallery, 1971
Awards:
1942: Painting national award, official hall
1948: Aristides Rojas award, official hall
1954: Antonio Herrera Toro award, official hall
1956: Armando Reveron award, official hall
1961: Honorific mention, Armando Reveron first Biennial, Museo de Bellas Artes