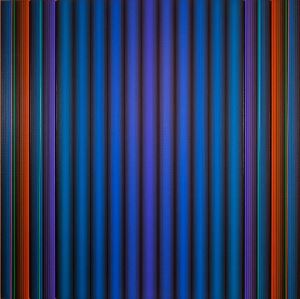 Painter born in 1936 in Valera (Venezuela), Darío Pérez-Flores studied at the School of Fine Arts in Valencia and the Central University of Venezuela. He joined the optical movement in 1970; in that same year he moved to France to finish his studies in Plastic Arts in 1973 at the University of Vincennes-Paris VIII, under the direction of Frank Popper.
His work is exhibited in galleries in the United States and in public and private collections in Venezuela, France, Switzerland and Germany. Darío Pérez-Flores is part of the interest in kinetic expressions created and developed by artists such as Carlos Cruz-Diez and Jesús Rafael Soto.
For Pérez-Flores, color initially acts as a vehicle for creativity, perception, spirit and the system. After his initial works in sculpture, mobile elements in metal and acrylic, he elaborated his first reliefs - movable frames driven by motors, whose lines move at the same time in a vertical and horizontal sense on a background, modifying the spatial-depth-color relation.
His body of work covers a lifetime of studies on optical and kinetic reverberation, a visual effect that occurs when the viewer moves beyond work. In other pieces, it uses motors that change shape at different speeds, creating a visual vibration due to the movement generated.