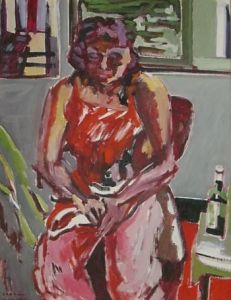 Born in San Cristobal, Tachira State, on September 5 1933. Died in Cagua, Aragua State in 1992.
Former assistant of the drawing, painting and composition free courses at the 'taller libre de arte' and at the Escuela de Artes Plasticas Cristobal Rojas in Caracas
Exhibitions:
Between 1967 and 1991 he made eighteen single exhibitions, highlighting those made at the Marcos Castillo Gallery, Caracas, in 1970-1971-1975; La Piramide Gallery in 1977 and 1982; Zulia State culture Institute, Maracaibo in 1983; The Sala Mendoza, Caracas in 1984; Modern Art Museum, Maracay, Aragua State, 1987; Mayz Lyon Gallery, Caracas 1984; Tito Salas Gallery, at the Jose Angel Lamas Foundation, Petare in 1991.
Awards:
First mention, Municipal Council Hall, Caracas D.F, 1977 and 1981 Municipal Painting Award, Caracas D.F. 1982.First award, 2nd Cagua hall, Aragua state, 1987. Juan Lovera award XLII Michelena hall Valencia 1907. 3rd award Aragua, art hall, culture house, Maracay, Aragua state, 1990. Municipal painting award, X Municipal painting hall, Municipal art gallery, Maracay, Aragua state.