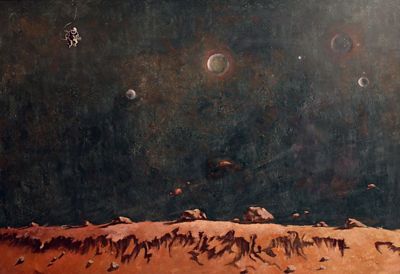 Painter, son of Félix León Spanish and Puerto Rican Magdalena Cruz Castro. Following the death of his father, his family moved to Caracas in 1919, where he lived an aunt of the artist. At an early age to attend Saturday workshops drawing taught at primary school. In 1930, he entered the School of Visual Arts and Applied Arts and attended drawing classes at night. By this time, working in a carpenter who leaves when formally admitted in 1934 to study at the School of Fine Arts with a monthly scholarship of 100 Bolivars. Get in touch with his contemporaries, Armando Barrios, Jose Fernandez Diaz (FEZ), Hector Poleo and his brother Cesar Rengifo, with whom, from this moment, will keep a close bond. His early work as Rengifo, seemed disjointed, though strong in drawing and color (quoted in Francisco Da Antonio, 1982, p. 207). In 1938 he made his first solo exhibition at the Ateneo de Caracas, which features drawings, paintings and prints. The sample was profiled in the press (El Universal, July 10, 1938). During this time, it belongs to a Self-Portrait (1935, FGAN), his work, directed by Mark Castillo was dim and romantic, billing and worked energetically with a spatula (ibid.), in which notes the influence of Post-Impressionists and some works of Frederick Brandt. In 1940 he graduated from the pure art and makes the teacher training courses in mural painting, until 1941. From this date, shall León Castro teaching at various institutions: Escuela Normal Macaro (Turmero) College of Arts and Crafts for Women, Venezuela Experimental School, School of Fine Arts in Valencia, School of Arts and Applied Arts and the Caracas Design Institute (until his retirement from the Ministry of Education in 1972). In 1941 he obtained an Honorable Mention in the American Art Competition in Santiago de Chile and a second Honorable Mention in the Third Annual Art Exhibition Official Venezolano del Museo de Bellas Artes de Caracas (MBA) with Self-Portrait, 1941. In 1944 Monte Piedad Barrios (Fundación John Boulton) accomplishes the Official Prize for Painting at the V Official. By then his work, as shown in Colonial Lady (1943, FGAN) already had "a synthesis between the inert material things and the bright color tension" and 1944, has already dispensed with the spatula, working with brush, drawing figures and landscapes with a technique reminiscent of the Flemish Primitives (Da Antonio, op. cit., p. 208). Social realism sector attracts a young artists of the time, whose influence has not escaped León Castro, but the painter develops a personal style as expressed by John Liscano saying: "Despite his respect for the way, Leo Castro is a [...] spontaneous painter her paintings differ from each other. His work, for this very reason, it is irregular. Happily. For nothing is more unpleasant than the paint recipe "(1981). In 1945 he traveled to Bogotá and Cesar Rengifo Alejandro Otero, to expose the sample Young Venezuelan Painting in the National Library. A few months after his return, was inaugurated in July 1946 his first solo exhibition at the MBA. In 1948, he moved to Paris for six months with a job at the Ministry of Education. This experience is reflected in a set of drawings, watercolors and landscapes that exposes her back (1949), in the MBA. In 1951 John won the prize at the XII Salon Boulton Officer with The Workshop (1950, FGAN) and is charged with the execution of a mural fresco of monumental dimensions, on the premises of Liceo José Miguel Sanz de Maturin, entitled Slavery in Venezuela, which is not completed as the new Governor of the State ordered the demolition of 72 m2 of wall that were already executed. Despite this, Leon Castro shows sketches of the mural in the MBA in 1953. The following year he participates in the Synthesis of the Arts Major advocated by Carlos Raul Villanueva in the Ciudad Universitaria de Caracas and runs the mural fresco dates Magna of the University (1954, UCV) inside the meeting hall of the University Council (Rectorate Building). Between now and early sixties spends much of his time to teaching and continued painting and exhibiting. Representative works from this period are: Bath (1957), Sales of Callas (c. 1959), Portrait of Josephine (1961) and Portrait of Flérida (1961). In 1964, he traveled to Mexico, contact the famed Taller de Gráfica Popular, David Alfaro Siqueiros knows and has the opportunity to witness the work of mural is then developed in Mexico City. By 1966 incorporates the technique of encaustic their means of expression, while he begins his exploration of the object on which later declared the artist himself: "My figures have to move, react, I can not submit [...] [...] peace and statism floating pumpkins, the landscapes are light, the prospect of the table is arbitrary, I use natural forms, but imagination is the ruler. I think I'm coming out of Realism "(TA, El Nacional, Caracas, May 27, 1977). However, in later works these statements are evidence that the artist is not completely clear of social issues. In pictures such as Underworld (1979), low pollution and Caracas in Caracas Dawn (1980) rural issues is replaced by the disturbing urban reality. In the early eighties working on wood to get the smooth finish of his "metaphysical objects" involved in the inquiry Image Exhibition (GAN, 1980) and performs a single recorded in the Workshop Graphic Artists Associates (TAGA, 1982), which brings together some of his graphic work, which has been a continued interest in his career, especially the woodblock technique. In 1987, presents recent works in the Museum of La Rinconada (now the Museum of Visual Arts Alejandro Otero). In 1993 opened Invitation to Genesis: Pedro León Castro: Items Metaphysical, where together works that have been stripped of the story and focus on the object and its relation to space without abandon figuration. The National Art Gallery Foundation (FGAN) has a dozen oil paintings of Leon Castro, including Portrait of a Lady (1939) and Still Life (1953).
Individual Exhibitions
1938: Ateneo de Caracas, Caracas.
1944: Centro Venezolano Americano, Caracas.
1946: Museo de Bellas Artes, Caracas.
1948: Museo de Bellas Artes, Caracas.
1949: Museo de Bellas Artes, Caracas.
1950: Museo de Bellas Artes, Caracas.
1951: Centro Cultural Venezolano Soviético, Caracas. Centro Social de Profesionales de Telecomunicaciones, Caracas.
1952: Curso de Capacitación Teatral, Ministerio de Educación, Caracas.
1953: Museo de Bellas Artes, Caracas.
1958: Museo de Bellas Artes, Caracas.
1962: Sala de Exposiciones, Fundación Eugenio Mendoza, Caracas. Ateneo de Valencia, Edo. Carabobo. Casa de la Cultura del Estado Aragua, Maracay.
1963: Ateneo de Boconó, Edo. Trujillo.
1965: Galería El Muro, Caracas. Selección retrospectiva: 1940-1950, Sociedad Maraury, Petare.
1967: Galería Li, Caracas.
1968: Galería Li, Caracas.
1970: Galería Li, Caracas.
1971: Ritmos de árboles, Sala de Exposiciones, Plaza Bolívar, Caracas.
1973: Galería Li, Caracas.
1977: Galería Acquavella, Caracas.
1978: Galería Acquavella, Caracas.
1979: Instituto Experimental de Formación Docente, Caracas.
1980: Centro de Arte Euroamericano, Caracas. Sala de Arte Corpoindustria, Maracay, Edo. Aragua.
1981: Centro de Arte Euroamericano, Caracas.
1982: Taller de Artistas Gráficos Asociados, TAGA, Caracas.
1987: Obra reciente, Museo de Arte La Rinconada, Caracas.
1988: Galería Universitaria Rafael Monasterios, Universidad Centro Occidental Lisandro Alvarado, Barquisimeto, Edo. Lara.
1990: Galería Gabriel Bracho, Caracas.
1993: Invitación al génesis: Pedro León Castro: objetos metafísicos, Museo Arturo Michelena, Caracas.
1994: Miradas desde el cristal, Sala de Arte Sidor, Ciudad Guayana, Edo. Bolívar.
Awards
1941: Mención Honorífica, Concurso Interamericano de Artes Plásticas, IV Centenario de la Fundación de Santiago de Chile.
1942: Segunda Mención Honorífica en Pintura, III Salón Oficial Anual de Arte Venezolano, Museo de Bellas Artes, Caracas.
1943: Mención Honorífica, IX Salón de Arte, Ateneo de Caracas.
1944: Premio Oficial de Pintura, V Salón Oficial Anual de Arte Venezolano, Museo de Bellas Artes, Caracas.
1951: Premio John Boulton, XII Salón Oficial Anual de Arte Venezolano, Museo de Bellas Artes, Caracas.
1953: Premio Arturo Michelena, XI Salón de Artes Plásticas Arturo Michelena, Ateneo de Valencia, Edo. Carabobo.
1959: Premio Antonio Esteban Frías, XX Salón Oficial Anual de Arte Venezolano, Museo de Bellas Artes, Caracas.
1966: Segundo Premio de Pintura, Concurso Pegaso, Compañía Mobil de Venezuela, Ateneo de Caracas.
1967: Premio Único, Caracas vista por sus Pintores, Sala de Exposiciones, Fundación Eugenio Mendoza, Caracas.
Collections
Ateneo de Valencia, Edo. Carabobo.
Fundación Galería de Arte Nacional, Caracas, Distrito Federal.
Fundación John Boulton, Caracas, Distrito Federal.
Fundación Museo Alejandro Otero, Caracas, Distrito Federal.
Museo Caracas, Consejo del Municipio Libertador, Caracas, Distrito Federal.
Museo de Arte de Barcelona, Edo. Anzoátegui.
Universidad Central de Venezuela, Caracas, Distrito Federal