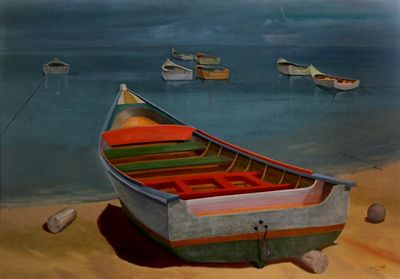 By the year 1,972, is totally dedicated to painting, he joined the group "New Generation", promoted by Cecilio Alvarez Gallery Fine Arts where he participated in several collective.
Exhibition at Gallery Pizzani Ricci, along with the great masters under the title "Two Generations."
Making his first solo exhibition at "Gallery Botto" in October 1973
In 1974 he founded with his father, Pedro Castro Leon the Professional School of Painting and Drawing and the Institute of Art and Design, Iardi Group.
Since 1987, Leo Carrillo, was devoted entirely to the curatorial, conservation and museum of the work of his father, until his death in 2003.
He works as an assistant in the mural (tiles) "Historical deeds" by Cesar Rengifo, currently located in Los Heroes.
It works the same way, for subsequent publication by the Editorial Armitano. Peering and photographing in private collections for the selection of the works reproduced in the books of Cesar Rengifo, and Father Gabriel Bracho Pedro León Castro.
Performed in 2006, an exhibition of his painting at the Yellow House where nude shows still lifes and landscapes.
Performed in 2007, a workshop on restoration techniques for the Culture of Trujillo State and History Center, with twenty Artists of the entity.
Is Curator of the State History Center since 2006 Trujillo (which maintains a collections of historical and Portraits of Heroes.
Install the exhibition entitled "75 Years Castro León in the national art." (Sample posthumously), with a selection of over 120 works, gathered from various collections in the Art Center "Daniel Suarez," giving and itinerant nature of the anthology shows, ended in the gallery of the UCV 2008
Represented in the collection of portraits of National Teacher Award winners from the AVAP Armando Reveron. (Association of Artists in Venezuela).
Join Group exhibition "Identities Azarísticas" at the Alliance Française, 2009.
Make two windows of large format, in Caracas.
He exhibited at the tenth Festival of Visual Arts and the Euro-American, Campeche, Mexico. 2009
He presented, as invited by Venezuela under the jury selection at the Fourth Beijing International Biennial, today his work "Mangrove" was selected for inclusion in the collection of the Biennale, the National Museum of China. 2010
As a writer, has a work and a biography and two pending trials for publication.
Has the order: Vicente Emilio Sojo and LEONIDAS Monastery in her first class.
He is represented with his work in Mexico, Panama, Colombia, Argentina and China.
Currently: Vice President for A.I.A.P. (UNESCO), Latin America and the Caribbean, period: 2009-2012.
IESA is presented in the exhibition titled From Beijing to IESA, "two Venezuelan artists toward universal screening." Campos Biscardi with the Master. From 21/02 to 27/03, shows homage to the artists who represented Venezuela in China to mark the 45th anniversary of that institution.