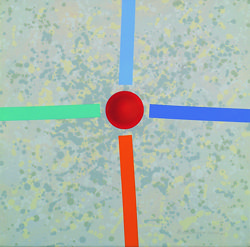 Venezuelan (born in Argentina, 1953), who lives in the country since age 6, takes his first drawing classes at 8. In 1971 he finishes High School at Colegio Moral y Luces, Herzl Bialik. In 1973 resides in New York, attending Columbia University and then the New York Institute of Advertising. Returns to Caracas, and in 1979 he completes his degree at the Instituto de Diseño Fundación Neumann, where he obtains his definitive artistic formation under the tutelage of artists of distinguished trajectories. It's there where, besides being nurtured by the purely academic experiences, he understands that the path offered by the Abstraction, Geometry, and the Bauhaus Movement will importantly dictate how he expresses himself.
At the end of this period he participates in the restoration of wood carvings and colonial oil paintings that belong to the Archbishop Palace in Caracas, among other private and government projects both in Venezuela and overseas. He develops drawing as a discipline in itself, along with other expression forms like etching, serigraphy, or the construction of pieces in wood, metals, and synthetic resins. Painting and sculpture play now a preponderant role.
Since 1978 his works have been exhibited in private galleries, museums and institutions like:
Estudio Arte 8, Venezuela
Latin Art Gallery, Czech Republic
Canal Gallery, Panama
Galería Gsiete, Venezuela
Aldo Castillo Contemporary, US
Galería Blasini, Venezuela
Arte Diners Gallery, Colombia
Galería D´Museo, Venezuela
Galería Durban, Venezuela
Centro de Arte Daniel Suárez, Venezuela
Estudio Actual, Venezuela
Forma Gallery, Argentina
Galería Felix, Venezuela
Galería Freites, Venezuela
Grupo Lí, Venezuela
Galería El Muro, Venezuela
Galería Minotauro, Venezuela
Galería Mirarte, Venezuela
Qbix Gallery, US
Sala Mendoza, Venezuela
Galería Templarios, Venezuela
Museum of Modern Art, Guatemala
Maldonado Museum of American Art, Uruguay
Museum of Art Alejandro Otero, Venezuela
Sephardic Museum of Caracas Morris E Curiel
Caracas Museum of Contemporary Art Sofía Imber, Venezuela
Museum of Barquisimeto, Venezuela
Carlos Cruz Diez Museum of la Estampa and Design, Venezuela
Art Center of Fine Arts of Maracaibo, Venezuela
National Gallery, Venezuela
Industrial Bank of Venezuela Foundation
Corporación Andina de Fomento Gallery, Venezuela
Central Bank of Venezuela
National Bank of Commerce Gallery, US
Union Israelita de Caracas, Venezuela
Museum Julio Teodoro Arze, Venezuela
University of Oriente, Venezuela
Zulia University, Venezuela
State Department of Foreign Affairs, Venezuela
Associated Graphic Artist Atelier, Venezuela
Pratt Graphics Center, US
Venezuelan Cultural Center, Colombia
Hebraica Cultural Center, Venezuela
Centre D´Art Contemporani, Spain
Center Binianei Hauma, Israel
Cultural Center Eladio Alemán Sucre, Venezuela
Corp Group Foundation, Venezuela
Alianza Francesa, Venezuela
His production has been enriched by other cultural influences, like Philosophy (L.R. Hubbard), and Music (renaissance lute, esthetic appreciation and socio cultural studies) among other sources.
Besides the several awards and recognitions he received, his work is being represented at the Associated Graphic Artist Atelier (TAGA) in Venezuela, Museum Fuji of Japan, Caracas Museum of Contemporary Art Sofia Imber (MACCSI) in Venezuela, National Art Gallery (GAN) of Venezuela, Museum of Fine Arts (MBA) of Venezuela, Caracas Sephardic Museum of Caracas Morris E Curiel, National Library of Venezuela, Central University of Venezuela (inscribed in the World Heritage List of UNESCO thanks to its art pieces). For this Institution he designed a stained glass for the School of Humanities and Education, initiating then a series of monumental projects with pieces up to forty five square meters. His work can also be seen in private collections in America, Europe, Asia and Oceania.