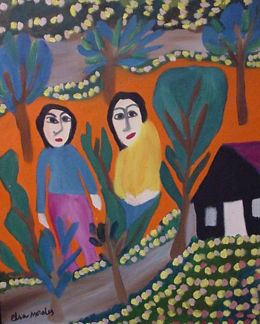 Born in Santa Teresa del Tuy in 1945, she moved at a very young age to Caracas, in order to work. Her beginnings in painting date back to 1967, when she began to show skill and eagerness to experiment with the use of all kinds of materials. Her first exhibition was organized in 1969 by Francisco Da Antonio, who upon meeting her found himself, in his words, with a character of unpredictable artistic significance.
Elsa Morales becomes a vanguard in popular art because she has constantly developed new proposals that range from her first works, in which she invented a kind of narrative pop-art, to the huge fabrics in which Perán Erminy finds certain post-modern trends. Her pictorial language has been characterized by the simplification of very wide planes, as well as the use of shapes, delineated with a very loose and wide stroke, and a saturated and contrasting use of color, translating to a result of enormous visual impact and great expressive force.
Her prolific creations also include three-dimensional works, such as huge dolls, murals, polychrome boxes, showcases and assemblies. The artist's work reflects her experiences and tell that her painting has "a story that I heard, I captured, reinvented and that I lived with feelings, because when I paint I put my soul and my skin out there as well as my joy and my pain". She has participated in numerous collective and individual exhibitions in the country and abroad, receiving various awards, including the Bárbaro Rivas Prize at the XXXVIII Arturo Michelena Hall in 1979, the Museum of Contemporary Art Award at the III Naive Painting Hall of FUNDARTE in 1982, the FUNDARTE Prize at the VII Hall of Popular Art of that institution in 1986, the Prize for Artistic Trajectory at the 1st Biennial of Popular Art Bárbaro Rivas at the Petare Museum in 1987, the Barquisimeto Award at the Art Festival held at that city in 1991 and a Prize in the I Bigott Hall of Popular Art in 1999. In 1992, she is part of the exhibition Images of Popular Genius, at the National Art Gallery. In 2003, Petare's Bárbaro Rivas Museum of Popular Art presented a sample of her most recent work in homage to an extraordinary creator.
Despite her health's ever-growing deterioration, she remained active in her artistic output, presenting exhibitions both in Caracas and in Barquisimeto, showing at all times an admirable spirit and strength. In 2006, the House of the Artist, in Caracas, recognized her, giving her name to the Exhibition Hall of that institution. Parallel to her plastic arts activity, she develops a literary work, publishing books of poems and also of stories and novels, illustrated by herself. She passes gently, in her sleep, on Saturday, March 3, 2007 at her residence in the town of Sabana de Parra, Yaracuy.