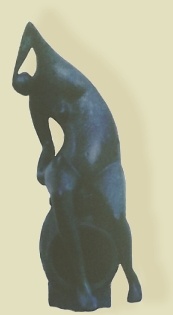 Born in Cumaná, Sucre State in 1944. Between 1958 and 1962 he made the pure art course at the Escuela de Artes Plásticas y Aplicadas Cristobal Rojas.
In 1965 quits his teaching studies in that institution, but he already had certain. Prestige as a sculptor, nation wide, reflected in the Michelena hall sculpting award in 1964; taking part the same year sharing a studio with British sculptor Kenneth Armitage, at the Museo de Bellas Artes. His attendance to the IV Biennial de Juvenals, at the Paris Modern Arts Museum (1965) at the official sculpting hall National Award (1966) between 1969 and 1971 he was the chairman of the Carmelo Fernandez Fine Arts School in San Felipe, Yaracuy state and after a journey to United States began teaching in various institutions in Caracas.
Prada has developed an interesting career as a goldsmith, receiving in 1988 the Artes del Fuego National First Biennial Award.