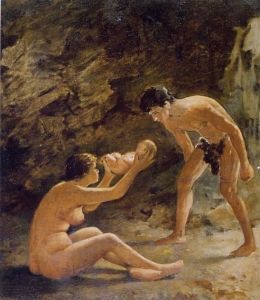 Born in Valencia, Carabobo State, on January 16, 1857. Died in Caracas on June 16, 1914.
Painter, Etcher, Writer. Received drawing and painting lessons from Tovar y Tovar and Manuel Maucó. A graduate of the "Escuela Normal de Dibujo y Pintura" in 1869, he was awarded a study cholarship in Europe, and he left for Paris that same year.
Herrera Toro contributed mostly as a portraitist. An exact sketcher, his careful execution and a just use of (color) values, coupled with his classical upbringing and his disdain for anecdotal scenes, led him to create some of the best portraits of our nineteenth Century; his palette is in this respect sensuous, fluid, based on gray tones, as should workshop pieces; he models the face y hands to emphasize certain realistic features and concentrates on the human expression, without overbearing backgrounds with unneeded objects or descriptions. In 1909 he was named Director of the "Academia de Bellas Artes", replacing Mauri. This nomination created a controversy which led to students leaving the workshops to create the "Círculo de Bellas Artes". Herrera Toro remained as head of the Academia until his death in 1914. He is represented at the "Museo de Bellas Artes".
Exhibits:
"Bolivar Centennial National Exhibition", Museo de Bellas Artes, Caracas, 1942; "Retrospective", Ateneo de Valencia (Carabobo State), 1957, and "The Venezuelan Painting 1661-1961", Museo de Bellas Artes.