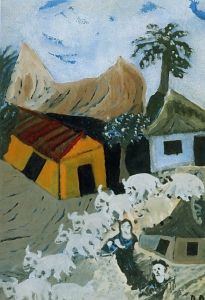 Born in the town of Petare, in the state of Miranda, in 1893. An illeterate and self-taught person. He is considering one of the greatest Venezuelan Master Artist.
Within his "universal" area, he developed a market religious style, combined with his mystic intuition using the local Petare topography as the scene for a day-to-day personal setting for the interpretation of his sacred symbols.
He is considered the most important Naïve Painter of Venezuela and became a living myth. His works has been shown in numerous expositions, and are included in National as well as International Collections.
In 1957, he took part in the Biennial of Sao Paulo, Brasil, and received a honorific mention, one of his greatest moments of his life. He died in 1967.