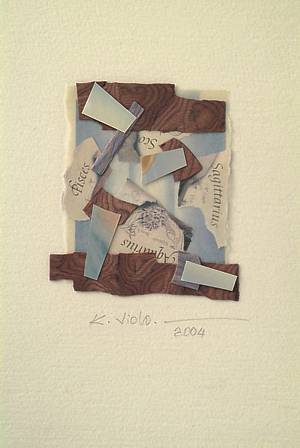 Born in Venezuela in 1952, travels to Italy at a very early age and returns again to the country at the beginning of the 70's. Soon after,her main objectiveis focused on the world of human relations, absorbing this science through different activities, in the entrepreneurial world as much as in government institutions. And thus, she moves towards Art as her ultimate goal.
Since her young years, her life has been ruled by very firm spiritual patterns andis initiated in diverse movements and philosophies. From hidden lamaseries in the Swiss Alps, to Scientology, philosophy created and impulsed by L.Ronald Hubbard.
This early spiritual vision, along with the desire of adventure in both the Old and the New World, the sharing of the force of the Latin-American nature and the European tradition (Violo was raised within the magical world of Barlovento and the daily observation of the works of Giotto or feeding the ducks in the garden of Galileo Galilei's observatory) inspired in her a close and deep relationship with Art.
From 1990, her interest lies on the manufacture of paper as an artistic resource, developing a language of abstraction that has been enriching itself with the support of different elements, technologies and continuous research.
In 1998 she received the AGPA (ArtesGráficasPanamericanas) recognition, sponsored by TAGA (Taller de ArtistasGráficosAsociados/Luisa Palacios) and Smurfit of Venezuela.In 2001 she was given an honorific mention at the I Salón de Arte/Exxon Mobil de Venezuela, in the MuseoSacro de Caracas.
Since 1993 her work has been shown in different galleries, museums and institutions:
Galería Parenthesis, Caracas
Galería Gsiete, Caracas
Galería D´Museo, Caracas
Galería Dimaca, Caracas
Galería Canvas, Maracaibo
Galería Parenthesis, Caracas
Galería Freites, Caracas
Galería Arte y Encuentros, Caracas
Grupo Li, Caracas
Galería Rosas y Algo más, Caracas
Galería San Francisco, Caracas
Galería WorldWords, Caracas
Galería La Tigana, Caracas
Estudio Arte 8, Caracas
Galería Mirarte, Caracas
BellArteGallery, Seoul, Korea
Espacio Capuy, Caracas
Design Center, Caracas
Marta Morante Gallery, Caracas
Galería Blasini, Caracas
Unopiu, Milan, Italy
Union Israelita de Caracas
Museo Contemporáneo de la Estampa, Galería 39, Madrid, España
Ateneo del Hatillo, Caracas
Ateneo de Valencia
Centro de Arte Daniel Suárez, Caracas
Sala de Arte Sidor, Ciudad Guayana
Galería CAF ( Corporación Andina de Fomento ), Caracas
Ciudad Banesco, Caracas
Sala Mendoza, Caracas
Centro Cultural Educativo Hebraica, G. B. Pinto, Caracas
Hogar Canario, Caracas
FIA Caracas
CEMIC, San Antonio, Edo. Miranda
Teatro Municipal, Puerto Cabello
Museo Jacobo Borges, Caracas
Museo Sefardí Morris E Curiel, Caracas
Museo de Barquisimeto
Museo de Arte Moderno de Guatemala
Museo de Arte Contemporáneo Francisco Narváez, Porlamar
Museo de Arte Contemporáneo de Coro
Ministerio de Relaciones Exteriores, Caracas
Centro Cultural Eladio Alemán Sucre, Valencia
Museo de la Estampa y el Diseño Carlos Cruz Diez, Caracas
Connecticut GraphicArts Center, Connecticut, US
Museo Sacro, Caracas
Her work is found in institutions and private collections in America, Asia, Europe and Oceanía.