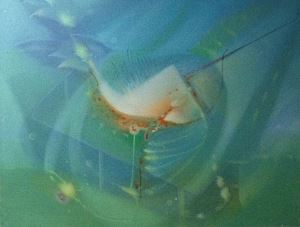 Painter. Son of an Italian father and Indian mother. At age 15 he moved to Valencia where he meets Braulio Salazar, who guides you through the early years of his artistic activity and encouraged to formalize their art studios. Mejíaz admitted in 1948 to Arturo Michelena School, where he remained until 1952. In 1955 he was appointed assistant sculpture and ceramics professor at that institution. Under the influence of Siqueiros is interested in social realist painting. Founder of the School of Plastic Arts Armando Reveron Barcelona (Edo. Anzoategui) in 1958, Director in 1962 assumed the leadership of the art page of the newspaper The Torch (El Tigre, Edo. Anzoategui). Twice has the opportunity to travel abroad with modest grants from the private sector, although at age 33 when he moved to Paris, on May 1, 1964, with a grant from ME which grants the Minister JM Siso Martínez through Arturo Croce. Before your trip makes a significant individually at the Ateneo de Valencia (Edo. Carabobo), where he exhibited 38 oil paintings and 11 sculptures.
In Paris he meets Oswaldo beams. Months were the first Europeans to visit museums but starts participating in group exhibitions, as performed at the Latin Lounge at the Museum of Modern Art in Paris in 1965. He dabbled in many forms of painting: social realism, impressionism, Cubism, expressionism, etc., but more for a lack -the cost of Brushes- that a technical resource, discover the immense possibilities of spreading oil pigments with rags and solvent together with the technique of frottage, artist has a master's degree. Between 1970 and 1975 shapes their current style without prior Mejíaz program but has managed to differentiate the automation or the surrealist exquisite corpse. His work is palpable influence of Chilean artist Roberto Matta, who has exhibited since 1967. The painting both have similar purposes but different processes and depart. In Mejíaz body is a physical domain intensity of energy dumped into the interior of the drawing action. The paintings, illustrations and wall decorations of that time have been labeled by critics as surreal, fantastic, visionary, science fiction, visceral, interplanetary landscapes, etc., the artist disdains rankings. His first concern "was to deepen his vision for depriving him of recognizable references. Its landscape shall simultaneously and the inner and outer pair feature that will, from now on one of the main brands of this his art imposes ban able to accurately determine the size of their microscopic chimeras or its huge necessarily monsters "(Bosquet, 1980, p. 51).For 20 years, was away from the Venezuelan Mejíaz art world, but in France he frequented Poleo and Soto. This silence was broken in 1981 when friends of the painter presented at the Biennial of Art in Caracas, Venezuela in the Hall Arturo Michelena XXXIX, where Arturo Michelena Prize received. That same year he participated in the Monte Carlo Grand Prix and won the Société des Bains (Grand Prix Monte Carlo, Monaco) Award Mer. Also in this year, the International Society of Japanese Artists selected one of his works as one of the top 25 from a pool of 312 from 46 countries. In 1988 he was guest of honor at the Spring Salon, Maison Alfort in France. Until his death he lived in France, the country that granted her citizenship. The HLG has, of Mejíaz, Cosmos B (1972) Transmutations (1978) and Self-Portrait 19 (1983); however, much of his artistic production in Europe. Trips to his homeland from the eighties led pictorial series in the tropics and the light to be felt in the creative process. In his recent work has incorporated characters, usually children or couples who might superficially associated with regression to his past linked to social realism or reminiscences of the first age.
Solo Exhibitions
1951 Ateneo de Valencia, Edo. Carabobo
1952 Hotel Carabobo, Valencia, Edo. Carabobo
1954 Ateneo de Valencia, Edo. Carabobo
1957 Ateneo de Valencia, Edo. Carabobo
1960 Ateneo de Valencia, Edo. Carabobo / Ateneo de Guanare
1961 House of Culture, Maturin / American Venezuelan Institute, Puerto La Cruz / Museo Nueva Cadiz, The Assumption / UDO, Cumana
1962 The Golden Fish Gallery, Caracas / Casa Nueva Esparta, Barcelona, Edo. Anzoategui
Anzoategui Room 1963, Barcelona, Edo. Anzoategui / UDO, Cumana
1964 G Gallery, Caracas / Permanent Art Salon, Puerto La Cruz / House of Culture Carlos Gauna, Acarigua-Araure, Edo. Portuguese / Ateneo de Valencia, Edo. Carabobo / Industrial Technical School, Acarigua, Edo. Portuguese
1968 3 + 2 Gallery, Paris / Gallery Witsch, Bonn, Germany / Gallery 999, Hamburg / Theo Gallery, Vienna
1969 Orly Airport, Paris / Gallery America, Palma de Mallorca, Spain
1970 3 + 2 Gallery, Paris / Gallery Saint-Germain-des-Prés, Paris / Gallery Matou, Hamburg / gallery Art-Club, Antibes, France
1972 Hall Gaudi, Barcelona, Spain / L'Armitière Gallery, Rouen, France BCT 1974, Clermont-Ferrand, France
1975 Ford Space, Paris / Orly, Paris / Suprême Gallery, Malmo, Sweden
1976 Gallery García de la Peña, Pamplona, Spain
Gallery 1977 L'Oeuf du Beau Bourg, Paris
Gallery Fontana d'Or 1978, Girona, Spain / Romano Temple Gallery, Vic, Spain Center emiciclo 1979, Murcia, Spain / City of Murcia, Spain / Yerba Gallery, Murcia, Spain / Gallery Punto y Raya, Murcia, Spain / Simon Gallery, Paris
1982 Art Gallery Visionnaire, Paris / Music Festival, Palais des Congres, Strasbourg / Gallery Belfry, Tours / Art Gallery Sans Frontières, Strasbourg, France
1983 Enfac Gallery, Turin, Italy / Gallery The Finestrella, Carnelli, Italy
1984 "Metamorphosis found" GAN / Euro-American Arts Center, Caracas / Gallery À l'Enseigne du Triangle, Paris
1985 Art Gallery of Orly, Paris
Gallery Dufour 1986, Amiens, France / "Thumbnails", Gallery Durban, Caracas / Astra Hotel Gallery, Paris / Venezuelan Culture Center, Embassy of Venezuela, Bogota / Gallery Cluny, Geneva / Gallery Lilian Estevez, Cincinnati, Ohio, USA
1987 Corinne Timsit Gallery International, Paris
Gallery 1988 Dabernkow, Friedrichdorf, Germany / Gallery Larc, Bourg-en-Besse, France
Gallery Dufour 1989, Amiens, France
Gallery 1990 Gangloff, Mulhouse, France / Art Forum Gallery, Park City, United States
1991 L'Espace Baudelaire, Rillieux-la-Pape, France
1998 Art Gallery Ascaso, Valencia, Edo. Carabobo
Prizes
Lions Club Award 1952, Arturo Michelena X Lounge
1954 Award Antonio Herrera Toro, Arturo Michelena Room XII
1981 Award Société des Bains de Mer, Grand Prix Monte Carlo, Monaco / Award Arturo Michelena, Arturo Michelena XXXIX Lounge
Collections
Legislative Assembly of the State of Anzoategui, Barcelona / Barcelona Athenaeum Edo. Anzoategui / Ateneo de Valencia, Edo. Carabobo / Casa de Colón, Las Palmas, Spain / GAN / Cajigal Liceo, Barcelona, Edo. Anzoategui / Azorin-Monovar Museum, Alicante, Spain / Carmelo Fernández Museum, San Felipe / Museum of Contemporary Art Foundation Ralli, Punta del Este, Uruguay / Museum of Contemporary Art, Skopje / Museum of Modern Art in Paris / Museum Modern Art, Barcelona, Spain / City Museum, Tomelilla, Sweden / Palais de l'Europe, Menton, France
Sources
Bosquet, Alain. Mejíaz. Painter metamorphosis. Paris: Jacques Dopagne, 1980. Cinap, M 45.
Credits
National Art Gallery (NAG)