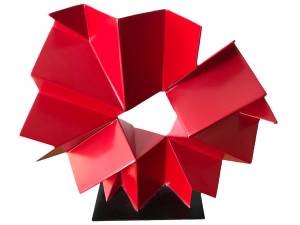 If we look over Millé's career, we'll notice that he is part of a new generation of Venezuelan artists, with pioneering influences including the likes of Jesús Rafael Soto or Carlos Cruz-Diez. He has participated in exhibitions around the world in France, Spain, U.S.A., Hungary, Cuba, Colombia, Panama, Korea, and Japan, among others.
The artist has a three-dimensional line of work, which makes his sculptures an expression in multiple planes, most of which unite the ceiling with the floor of an exhibition hall. Creating a contrast with the gaps within his works is something that he achieves to perfection; his sculptures are like paintings. Many of his creations have been inspired by architectural concepts with volumes that overlap, providing movement to his pieces that seem to float.
SOURCE: ambientedigital (Web) (translated).