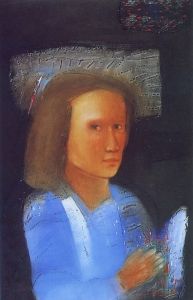 Alirio Palacios was born in Tucupita, Territorio Delta Amacuro, on 7th of December, 1938. He died on September 11, 2015.  He studied painting at the Escuela de Artes Plásticas y Aplicadas de Caracas, as well as graphic design in Beijing, China, and in Prague, Checoslovakia.
Despite the eminently figurative meaning that characterizes him, Palacios is increasingly yielding to more abstract formal solutions. He expresses the forces in nature and inside him by means of expressive, solid strokes, like a way of recording the power of his ancestral world.
To see Alirio Palacios's work is one of the most significant experiences any spectator can have. This is due to several reasons. First, despite being an excellent painter, Palacios's background is in printing. This observation was made by the artist Alejandro Otero, who, in a public intervention at the Ateneo de Caracas in 1971, pointed out that Palacios resolved his sensibility on prints and not directly on the canvas or drawings. He was right. Alirio Palacios integrates elements from the graphic arts into painting and drawing. This quality has been the highlight of his work throughout his career. The image carved on a print plate is conceived as a negative of the final product. Engravings a lá mezzotint's manière noir searches for light from absolute darkness. Something similar happens in painting: it comes forth «backwards,» since figures take shape from darkness towards light. Palacios's oniric universe emerges from the color black and its hues. If we establish a parallel with Reverón, who was the master of luminous atmospheres, Palacios is the king of darkness. Reverón with the shores of Macuto, and Palacios with the delta's precipitation. Palacios's education is one of the most complete and disciplined among any Venezuelan artist. But his works feed on more primitive images. His figuration is sustained by childhood memories and the Delta ghosts still haunting him. Neither the world of academia nor the technical mastery with which he works; the different media have hampered the spontaneity and evocation found in his images, products of vigil and imagination. He has taken the path that many Venezuelan artists have followed: travel abroad. Many of these artists have chosen kinetic art or geometric abstraction. Others have traveled to Mexico, searching for a figurative expression that agrees better with the essence of Latin America and social commitment. Alirio Palacios, after an important formative stage in Caracas, went to Rome. There he found the same old academic routine of model and plaster; he renounced his scholarship and began to search by himself. He traveled to Hungary, where he actively participated in the Communist Party. Then, after traveling in Russia, he decided to study in China, a rigorous and disciplined country that finished shaping the artist's personality. It was the beginning of a life full of experiences and of a persistent will to create and learn. Formative Years: The Delta – Caracas Everything started at the Delta, in the Escuela Mene Grande Oil Company in San Tomé de Guyana. A boy, while not too interested in theoretical studies, couldn't contain his passion for drawing, and he constantly left the classroom's blackboard filled with doodles. The board of directors let him set normal school life aside in order to be able to paint. This was his first true schooling, because it was there that his passion for art grew. He continued his studies in Caracas. This was from 1954 to 1960. During the day he studied at the Escuela de Artes Plásticas Cristóbal Rojas. His teachers were artists of the caliber of Alejandro Otero, Juan Vicente Fabbiani, Rafael Ramón González, and Clara Diament de Sujo. He remembers them all with true affection and admiration. At night he studied graphic design, another activity he worked on for many years. He especially remembers Gerd Leufert, from whom he learned and conceived what he calls «the three-dimensionality of color» produced when a tone is added to a color. This changes and reshapes the color, giving it transparency by superimposing color planes. He confirmed that the resource can only be done in graphic arts and not painting. China: 1961-1966 After renouncing to his scholarship in Rome and having worked as an illustrator in Budapest's Communist Youth newspaper, he decided to study in China. It was 1961, and the Cultural Revolution had already started. He entered the woodcut school at Peking's University of Fine Arts. His teachers were Li Hua and Li Co Yan, among others. With them he worked on traditional prints, wood cutting and printing, all the while he made further advances in drawing and painting. According to the Chinese way, an artist must be whole in the handling of both media and techniques and of himself. That's the reason why it promotes a harmonious relationship between the self and nature. As a result, Palacios no longer felt the anxiety for constant change so commonly found in trends of the Western World. In China, the primary and primordial essence of the artist should be knowing how to live in communion with the natural world and the individual contents of his own self. From there the strong spiritual connotations found in Palacios's landscapes, and the deep meaning he grants to the color black an essential aspect of China's millenary tradition. «Give me color, give me black,» Palacios remembers his teachers telling him. Besides academic rigor, he also searched for the popular wisdom of the country folk. He lived with them and learned their way to carve wood. This strengthened his technique in woodcutting. Today, 40 years later, he still defies and revolutionizes the print medium by using large formats and experimenting with diverse materials and pigments. He has shown preference for large formats since his years in Peking. Caracas: 1966 – 1968 With the Chinese he also learned to appreciate the richness of different types of paper. That's why, upon his return to Caracas in 1966, he could not continue making prints but dedicated himself to drawing and painting. Only in New York, during the 1980s, did he return to woodcut, after discovering that in Chinatown he could get adequate papers and natural pigments. For him, Caracas was a cultural shock. Curiously, he felt closer to faraway China and the Delta than urbane Caracas. Those distant places create more myths, which is essential for an artist like him, who is a creator of myths. By returning to painting he became a deeply humanistic artist who decided to search for new images, always with a clear sense of the figurative. Up to this day he still admires Morandi for being a meticulous artist who persisted with the same pictorial motifs bottles and still lifes. Morandi reminds him of a precept he learned in China: to learn «from the patience of seeing and waiting.» When he arrived in Caracas, he was shocked when kinetic artists claimed that painting was dead. This didn't fit too well with the Chinese teaching that calls to set aside all personal ego in order to delve deeper into a single image. Warsaw: 1968 – 1970 In Warsaw he was able to relate the Delta and China, his two interior worlds. At the same time, he was at odds with a context filled with ideas of progress and advertisement. He became interested in posters, a medium he worked on for several years of his life as graphic designer. His way of conceiving a poster changed in Poland. He abandoned the photographic support to create a poster based on drawing. For him, this was Poland's biggest le–gacy. In the meantime, his figurative art became char– ged with humanity. Recalling this stage, the artist says: «The first five months were to adapt myself. During that time I could not work at all, and limited myself to observe, visually and intellectually, my surroundings. I went to France and Holland, then returned to Warsaw and enrolled in the Academy of Fine Arts. There I received an interesting theoretical education, but I found the local galleries uninteresting. At the Academy I worked with professor Henryk Tomaszewski, in the department of advertisement graphics. His works were very good, and he took me to another department, lithography and mezzotint, where I settled and began to work tirelessly for eight months.» A world of vigil and dreams emerged. Obsessions, memories, ghosts, and a «fauna of penumbra» populated his prints, which constituted the essential structure of his paintings and drawings. Back in Caracas, he dedicated himself to painting and design. His justification for having abandoned print is that he printed too much. This two-year period was a transition, a search enriched by some teaching he did at the Instituto Neumann. He then returned to Europe to continue his studies in alternative printing techniques. Geneva and Krakow: 1972 - 1975 Palacios lived three years in Switzerland, where he studied at the Centre Genevois de Gravure Contemporaine. He taught mezzotint at the University of Art in Geneva. He was a true master of the mezzotint, an appropriate medium to investigate shapes based on the color black. He studied the technique in depth at the University of Krakow, finishing his studies in 1975. It was a decisive year; he felt that he didn't need to learn more and that it was time to work professionally. More than ever, his works filled with dense and dramatic atmospheres. Figures are flighty, desperate, and anxious apparitions who are persecuted by the force of nature in the midst of darkness. Because living in the Delta is to be at the mercy of natural shifts: huge river floodings, rain, and constant exile. And it all happens in the darkness of night, in the darkest blackness imaginable. Caracas: 1975 – 1985 He decided not to travel for a while. In Caracas he became part of the Consejo Nacional de Cultura's graphic arts team, and he was artistic director of the Revista Nacional de Cultura (National Magazine of Culture). His work as graphic designer was intense, and he exhibited constantly and was awarded many prizes as an artist. Marta Traba writes these lines: «Alirio Palacios's works have a powerful, really powerful, oniric climate. He reworks meanings by weaving them together. In the end it is the weave, not concrete things, that make up the paintings. Tenuous and acutely poetic, having more vision than reality, more dislocation that matter, his works demand a particular dedication.» With this, Marta Traba tried to point out the immaterial condition of Palacios's painting, a condition that's common to graphic arts and drawing. In that immateriality, or spirituality as the artist himself calls it, there's no determined time. They're paintings of atmospheres and of temporal suspension. In fact, they're more visions than realities. The past at the Delta coexists with the artist. He has interiorized that natural world, and it surfaces constantly. Just go to the Carrizales studio, in the state of Miranda, and appreciate the huge garden-studio where planks and «concretegraphs» (prints done on slabs of reinforced concrete) have their special place. This environment, I think, is part of the vital context required by the artist. New York and Caracas: from 1985 and on1 After being named cultural consultant at the Venezuelan consulate in New York, Palacios opened his studio in SoHo. It was the first step toward international recognition. Also, it was the beginning of a close and permanent contact with the city's intense cultural life. In New York, he once more found the conditions to continue printing, being able to procure Chinese materials (found in Chinatown) while integrating the techniques and themes from his personalized vision of the West. From that moment on, he will work both in New York and Caracas, in both drawing and painting. Since 1985, in New York, he prints on large-format wooden planks using water and Chinese natural pigments and inks. He continues this technique in his Carrizales studio. Once printed and forming a series, the woodcuts are intervened individually, each becoming an autonomous piece. The materials used are extremely important. He chooses the medium according to the type of wood used. When it's a print, he works the image on the plank serving as plate, fully respecting its accidents. When it's painting, he takes advantage of the richness of the wood's stripes and constitution. «I have certain woods for my paintings, others for printing. I use them with bass-relief or different textures. I take out, glue on, scratch, carve, and make up the piece with the cuts. They have different colors, according to the type of tree. I paint on woods that come from Malaysia, the Amazon basin, Indonesia.» For these works, he once more took up a image that has obsessed him since his years in China: Lin Ku Lin's horse, painted 600 years ago. This horse was the topic of his thesis in Peking, and he studied it up to the smallest detail. In order to graduate, he made 12 large-format prints (150 x 200 cm). Ku Lin's pure line moved him deeply. Palacios still traces this pure line with a simple nail applied to the wood. He uses the same matrix and large sheets of rice paper. He sometimes adds color or other characters: a devil-skunk, a dog, a devil-opossum, etc. He's not interested in just any horse, either, only the ones with a glorious past and history, horses that took part in the Emperor's defense. The river's, another great topic, is still present: The Orinoco river's magnificence along with his ancestors and friends, who can be found in the water. Then come the myths: the manatee, a growing tree, a human appearance or the one he has created when remembering a loved one. The Delta's nature, far from being a peaceful landscape, is expressed with all its aggressive pulsations. It is in constant transformation. Palacios has described the area's nature as «a powerful natural concentration of spaces and life.» These images have a «somber blackness.» Here a serpent swallows a whole cow, a cayman takes a child away, the Caribes devour cattle. It's nature-all right savage, exuberant, and natural. That's why, the artists says, «the experiences of this world cannot be said without the color black.» Having such a fulfilling spiritual life has protected him from the cultural invasions coming from the market's fashions and impositions. And today more than ever, since we live in a globalized world, the Delta is his point of departure and the axis sustaining him. Traveling to other countries has helped him acquire self-assurance and discipline, and he has been able to systematize his techniques and expressive media in order to represent his place of origin. This, more than a place, is a condition of his being. Alirio Palacios likes experimenting. An artist of his time, he has researched the latest printing media: the digital image. His most recent works defy, once more, the limits of the medium. Printed images of up to 180 centimeters are achieved by means of repeated scans, in which the latest version is better than the previous. Made with the latest technology, the resulting prints are high-resolution images of outstanding quality. Characters inspired in the Middle Ages and the Renaissance, and paintings from artists such as Vermeer, Mantegna or Goya are worked in this innovative tool, which maintains both the vitality of color and the presence of wooden stripes painted on the plank as it if were the «original plate.» Since the 1980s, Palacios alternates his creative space between Caracas and New York. In Venezuela he has two workplaces. For his small-formatted graphic arts work, his studio at Las Acacias; for large-formatted pieces, Carrizales. In Carrizales he makes his so-called «concretegraphs,» started in 1994. This word, coined by Eugenio Montejo, a great friend of the artist, consists in the creation of prints by means of large slabs of reinforced concrete that Palacios «carves» before printing. The plates are made from a soldered iron structure; then concrete mixed with sand, soil, and other materials are poured into it. The technique is based on taking advantage of the high-reliefs printed on the paper. It differs from traditional printing in that instead of inking the concrete slab, what's smeared with ink is the paper that has been glued onto the slab, entering its bass-reliefs. It is inked with cloth balls or rollers, and so the high-relief images are printed. The results are very gestural and expressive figures made from the line strokes done on the still-fresh cement. The topics worked on the concretegraphs are, among others, warriors, landscapes, still lifes, and references to Goya or Vermeer. In Caracas, with the collaboration of the Taller de Artistas Gráficos (TAGA), he makes oil-based woodcuts. They're of large-format, usually made up of four large sheets of paper. Each sheet is a fragment of the motif to be printed on a piece of a landscape or horse and then they are brought together to finish the whole piece. They're made with overlaid wood, and their procedure is basically the traditional woodcut, the only difference being the solvent used. The areas of light and color are printed on the black base. From Figurativeness to Abstraction. From the Particular to the Universal Despite the eminently figurative meaning that characterizes him, Palacios is increasingly yielding to more abstract formal solutions. He expresses the forces in nature and inside him by means of expressive, solid strokes, like a way of recording the power of his ancestral world. The figures in his most recent works have become more synthetic, and they are recognizable through the treatment of planes of color. A rotund stroke says everything about nature's firmness when it's transforming. That gesture settles the Delta's voluptuousness. The relationship between the natural environment and the figures living in it are part of Palacios's imaginary world. His ghosts, animals, rain, trees, birds, all are part of his mythical universe. That particular world, so much the artist's, transcends to universality. That's why he has such a harmonious relationship with the Chinese temperament, added to the fact that he likes to treat universal themes such as horses, warriors, and historical personalities. Alirio Palacios is a complete artist. This quality shows his transcendence and creative will, making him an artist who's definitely universal.