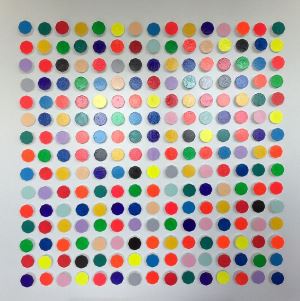 Born in Caracas, Venezuela, self-taught His works are influenced by abstraction, expressive elements dominated the sensitivity and ideas. The spontaneity to choose freely the forms and colors unrelated to visual reality makes the viewer can interpret in their own way, where strong colors are the protagonists and gives answer to creating imaginative. Brushstroke agile, spontaneous with a varied palette of colors that express their artistic creativity.
Exhibitions:
Affordable Art Fair - New York, Octubre 2012
2012 Subasta Por El Progreso - Caracas 06 al 11 Sep. Trasnocho
2012 1er. Salon ComArte - Baruta Sep.
2012 Iberoamerican Art Fair (FIA 2012) Caracas Venezuela Jun /Jul 2012
2012 Galeria Dimaca / Fundacion Iguini . Caracas, Venezuela. Exposicion Actual
2011 Galería Casa Cuadrada. Bogotá, Colombia. 24 al 11 de Dic. 2011.
2011 "EL ARTE CREA 2011"
II Exposición Colectiva y Subasta de Pintura - Ago. Bogotá-Colombia.
2011 Ellas. Galería Arte Estudio 8. Venezuela. Junio 2011.
2011 Realidades Geométricas. Galería Dimaca. Venezuela. Enero-Abril
2010 Master of the Imagination, Agora Gallery
The Latin American Fine Art Exhibition.
530 West 25th Street, Chelsea, New York.
2009. International Exhibition Salón de Arte 2009. The Worlds of Art. 1388 Sw, 8st. Miami. FL. 33135. USA.
2008. Fundación Iguini. 4ta. Avenida de Los Palos Grandes, entre 5ta. y 6ta. Transversal. Quinta Dimaca. Caracas, Venezuela.
2007. Museum of Art-Rhode Island of Desing. Muestras Latinoamerica-nas. 20 North Main Street, Providen-ce, RI 02903.
2006. Galería Okyo. Calle California, Qta. Las Churrucas, entre Jalisco y Monterrey, Las Mercedes, Caracas, Venezuela.
200 galeria de Arte Florida. Av. Don Bosco, Qta. Castillete, Nº. 24 Urb. La Florida
"Wuilfredo Soto works have the common denominator of a colorful palette. There is an inherent frame to the work which is the basis of the composition of his work. However, while respecting the initial mesh protruding parts that framework for consistency of matter and the hue of the same, which give three-dimensionality to the proposal. These stains removed the element stiffness and gaze stops at an accident caused by the artist. They glide through the organizing element to break the severity and surprise the viewer. A gesture that enriches the work. In other parts, the structures are suggested. There you play with colors similar to the background elements to achieve depth and three-dimensionality.
Soto, which is basically an urban self, comes from a technological world. Scheduled mind that takes you to a search for order against chaos. No color but not strident. There is a deliberate organization of hues that creates unlimited sensations of a preconceived method but, oddly contradictory release of matter and pigments".
Beatriz Sogbe