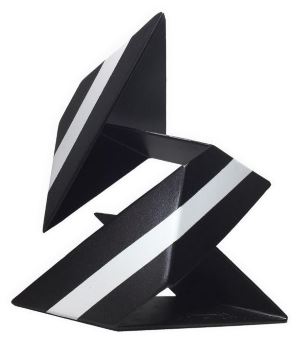 Sculptor. He studied at the Cristóbal Rojas School (1958-1962), and continued the teacher training program at the school until 1965. He was a student of Eduardo Gregorio and Carlos Cruz-Diez. Guinand starts his sculptural work with clay; later experimenting with stone and wood, influenced by Barbara Hepworth. He worked with cast in bronze with abstract and strongly expressive forms from mold. In 1962, he exhibited alongside Alex Henríquez, Gilberto Martínez and Carlos Prada in "Four Venezuelan Sculptors" (MBA). This exhibition aroused the interest of the Neumann Foundation, which supported the group and led a workshop with the English sculptor Kenneth Armitage; the joint work produced the exhibition "Armitage and Eight Venezuelan Sculptors" (MBA, 1964), where Guinand participated. The following year he won the National Sculpture Prize at the XXVI Official Hall with the Coin Making Machine and The Hands of the XX Century (both GAN collection). Between 1965 and 1967 he resides in Europe, where he takes free courses of art in Paris and participates in the V Biennial of Paris (1965). Since then he works with iron, comes into contact with the English school and is interested in kinetic art.
In 1967 Guinand returns to Venezuela, exhibiting works made of aluminum (Athenaeum of Caracas) and participated in the collective "Sculpture and Its Possibilities" with a kinetic work of virtual volumes. In 1967 he was appointed director of the School of Plastic Arts Martín Tovar y Tovar de Barquisimeto, and then director of the School of Visual Arts Rafael Monasterios of Maracay (1968-1969). He resides in Paris between 1969 and 1970, and later resumes the address of the Rafael Monasterios School. After 1970, he studied optical games from lines; his work is stripped of its material nature and henceforth he paints in parallel acrylics on vertical aluminum or iron sheets and irregular shapes to create a virtual volumetry; The pieces produced in this stage, called Ambiguous Virtuals, were exhibited for the first time in the II Fine Arts Hall (MBA, 1974). In the 1990s he began to use color in works called Progressions.
Awards and Honours:
1964: Second Prize, Salon of Young Artists, MBA / Rotary Club Award, Salón D'Empaire.
1965: National Sculpture Award, XXVI Official Salon / First Prize, IV Aragua Hall, House of Culture, Maracay.
1966: First prize, XI Salón D'Empaire.
1968: UC Award, XXVI Arturo Michelena Hall.
1986: Second prize, XI Salón Aragua, Maracay Art Museum.
2016: Armando Reverón Award.
Source: Vereda