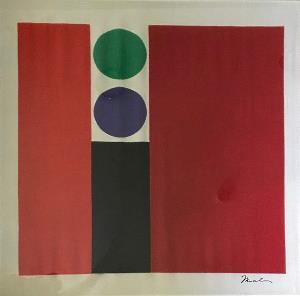 Mercedes Pardo was born in the parish of La Pastora. Her childhood is spent between her hometown, Isla de Margarita & Los Teques. She studied at the School of Fine Arts of Caracas. Pardo lived several years in Santiago de Chile and Paris. She started a trajectory in the plastic arts from a very young age that included different techniques and diverse possibilities of abstract language, mainly in painting, watercolor, stained glass and collages, as well as her famous sets for theater and an abundant graphic work.
In the fifties, abstractionism is accepted in the country, and the implementation of the project of integration of the arts of the University City of Caracas and the return of a generation of artists trained in France, strengthened a climate of renewal in both the execution as in the artistic education. Towards 1956 Pardo began to make works that can be classified as pre-formal by the use of an abundant pictorial layer, although her work will be steered towards a formal search for chromatic effects.
In 1976 she exhibited in "Los artistas y Olivetti" (MACC); in 1978 she was awarded the National Prize for Plastic Arts and presented in the exhibition "L'œil en question" (Noroit, Arras, France). In 1979, the GAN organizes a retrospective with works carried out between 1952 and 1978, and participates in the exhibition "Venezuelan Constructive Art 1945-1965: Genesis & Development", carried out in the GAN; on that year, she designed a three-hundred-square-meter curtain for the Municipal Theater of Caracas, of which Fundarte made a silk-screen edition. In 1983 she is invited to the II National Biennial of Visual Arts (MACC). In 1984 Pardo exhibited at the 1st Biennial of Havana and began the series of works entitled Cubist Suite. In 1987 she attended "50 years of painting in Venezuela through the National Awards" (La Rinconada Art Museum, Caracas) and the National Hall of Plastic Arts in the invited artists section (MACC).
In 1991, Pardo made her most important anthological exhibition, "Moradas del Color" (GAN). Mercedes Pardo has also participated in editions III, XVIII, XX, XXI, XXII, XXIII, XXV and XXVI of Salón Oficial (1942, 1957, 1959-1962, 1964 and 1965). On the occasion of the 2004 Ibero-American Art Fair, Pardo defined herself as "the colorist" in a tribute that included the publication of a book that includes part of her work, under the title Private Utopia by Mercedes Pardo. In her last years she lived and worked in San Antonio de los Altos (Miranda).