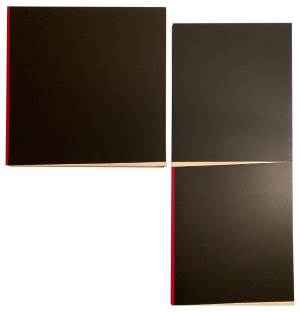 (b. 1950). Painter and installation artist. In 1969 he studied at the School of Plastic Arts in Carúpano and, in 1972, he traveled to Caracas, where he enrolled in the free workshops of the Cristóbal Rojas School, taught by Ramón Vásquez Brito and Gabriel Bracho (until 1974). In 1975, he was part of the founding group of the "Taller Libre" at the Carúpano School of Plastic Arts and worked as a teacher at the school of drawing and painting. In 1977 he won First Prize in the National Hall of Decorators Chamber (Caracas) and participates in the II Annual Painting Hall at the Banap Gallery (Caracas). From 1979 he becomes interested in the three-dimensional form.
In 1980 he was part of "El mundo de lo sobrenatural" (Municipal Council of the Federal District, Caracas) and realized an individual exhibition at the Chamber of Commerce and Industry of the Ricaurte District (La Victoria, Aragua). In 1985 he exhibits, at the El Patio Gallery, "Conversión hacia el arte abstracto", 36 paintings that go from landscapes with Fauvisi and Cezzanian vestiges to geometric expressionism, where the planes of color are intertwined and create volumes through the use of perspective and different vanishing points. In 1986 he exhibits "Espacios tonales" (Graphic / CB2 Gallery, Caracas), abstract works in which the search for relationships between tones and contrasts is evident. A year later, in the same gallery, he exhibits alongside Enrico Armas and Zerep.
In 1989 he participated in the XLVII Arturo Michelena Hall with "Tensiones variables". Later on, he finished a series of works with that same name and, in 1990, he was recognized with the Antonio Herrera Toro Prize at the XLVIII Arturo Michelena Hall, with a work belonging to this series. In 1991 he presented "Tensiones variables" (Simonetti Space, Valencia, Carabobo). These works present spaces of flat color (acrylic on wood) alongside some other three-dimensional artworks.
"Pedro Fermín is focused on the non-illusory, concrete construction; on the pictorial space, that is, on the determination of an authentic volumetry of color. In his exercises, possibilities reducible to the plane are analyzed. His intention is not to suggest the third dimension but rather to analyze in two dimensions an integral plastic space as solid and concrete as that of the practice of architecture" (Niño Araque, 1991).
AWARDS SELECTION:
1977 - First Prize, National Hall of Decorators, Caracas.
1980 - First Prize, House of Culture, La Victoria, Aragua.
1981 - Second Prize of Painting, Chamber of Commerce of La Guaira, Federal District.
1990 - Antonio Herrera Toro Award, XLVIII Arturo Michelena Hall.
1994 - First Prize, XIX Aragua Hall, MACMMA.
Source: VEREDA