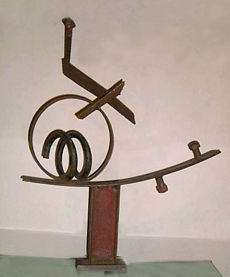 Venezuelan sculptor. Son of the dentist Juan de Mata Briceño Rossi and Virginia Barrios Bustillos, who was a drawing aficionado. In 1950 he leaves behind his university studies to enroll at the School of Plastic and Applied Arts (Escuela de Artes Plásticas y Aplicadas, Venezuela), whose pensum underrated sculptural crafts at the time. In 1955 he enrolled in the Central School of Arts and Crafts in London, where he studied with Robert Adams. Up until that time he had been working with wood and plaster, exploring figurative themes influenced by Jean Arp and Henry Moore; with Adams, however, he focuses on the use of iron as an artistic medium. In 1956 he travels to Paris and finally settled in Madrid, where he obtained a scholarship from the Institute of Hispanic Culture (Instituto de Cultura Hispana).
In 1958 he returned to Venezuela, where the abstract art experience had been developing since the end of the previous decade. In 1960 he opened his first workshop in El Conde; he focused on an informal artistic current and took advantage of the oxidation of metal to introduce in his work elements of industrial origin, such as screws, nuts, scrap metal and miscellaneous objects. His passage through this informalist trend concludes towards 1964, when he attends the XXV Official Hall (XXV Salón Oficial) and obtains the National Sculpture Prize (Premio Nacional de Escultura) with Los Enemigos del Alma (GAN collection), returning to the sense of organization and structure that characterized his previous constructivist works. From this point forward he utilized color in many of his pieces to emphasize a sense of surface before volume.
He participated in the official Venezuelan art halls from 1954 to 1967; afterwards, he moved to Mexico City. From this date onwards he begins to combine formal rules of proportion within a constructivist language, along the expressiveness of his very own sensitive intuition. In July 1974, he assumed a role within the National Directorate of Plastic Arts of Inciba, where he remained until 1975. Regarding his work aesthetic, Bélgica Rodríguez concludes the following: "the formal language of this sculptor is a synthesis between the constructive and the expressive, given through the form, color and material to which Briceño has come through a process of simplification of the form, of the game between geometric rigor and the informal gesture".
SELECTION OF AWARDS RECEIVED:
1963: María Eugenia Curiel Award, XXIV Salón Oficial.
1964: Premio Nacional de Escultura, XXV Salón Oficial.
1966: Julio Morales Lara Award, XXIV Salón Arturo Michelena.
1977: Julio Morales Lara Award, XXXV Salón Arturo Michelena.
1990: Francisco Narváez Award, IV Bienal de Oriente, Porlamar, Nueva Esparta.
Sources: VEREDA.