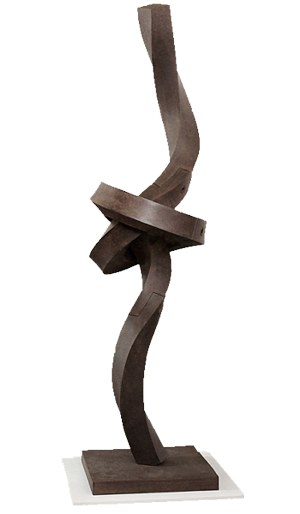 Cavalieri was born in Caracas in 1969. He is a Venezuelan visual artist who throughout his long career has achieved renown for his monumental sculptures and public works integrated into architectural forms.
He has been working in visual arts, and particularly in sculpture, since 1994 when he completed his studies in industrial design, mechanical engineering and art, which he carried out in Caracas from 1986 to 1994. His career as an artist has been prolific and his work has been exhibited both in Venezuela and abroad.
Selected solo exhibitions
2009 Hierro y Epifanías (Iron and Epiphanies), Galería Freites, Caracas, Venezuela.
2004 Descontenciones (Discontentions), Galería D'Museo, Caracas, Venezuela.
2003 Estructurales IPN (IPN Structurals), open-air exhibition in the Isabel La Católica Square, La Castellana, Caracas, Venezuela.
2000 Nada en concreto (Nothing Concrete), Galería D'Museo, Caracas, Venezuela.
1996 Psique + Acero (Psyche + Steel), Galería Uno, Caracas, Venezuela.
Selected group exhibitions
2010 Not Made in China, Galería La Cuadra, Caracas, Venezuela.
2008 I Sculpture Biennale of Guadalajara, Guadalajara, México.
2007 Arte Américas (Americas Art), Florida, USA.
2006 Museum of Latin American Art, California, USA.
2006 Dearte Contemporáneo (On Contemporary Art), V Fair of Spanish Galleries, Palace of Congresses and Exhibitions, Madrid.
2006 Art Miami, Florida, USA.
2006 Ibero-American Art Fair (FIA), Caracas, Venezuela.
2005 Premios Italia para las Artes (Italian Art Prizes, First Prize), Caracas, Venezuela.
2002 Andean Sculpture Contest, Municipal Museum of Modern Art, Cuenca, Ecuador.
1999 Pirelli Young Artist Contest, Sofía Imber Museum of Contemporary Art of Caracas, Caracas, Venezuela.
1999 Pier Walk ´99 International Sculpture Exhibition, Chicago, USA.
1999 Sculptures Internationales (International Sculptures), Maison de la Découverte, Québec, Canada.
1998 Exhibition Contest in Socrates Sculpture Park, New York, USA (Awarded a Grant).
1998. International Sculpture Exhibition, Le Portal Galerie d'Art, Québec, Canada.
Represented in important public and private collections in Venezuela and abroad