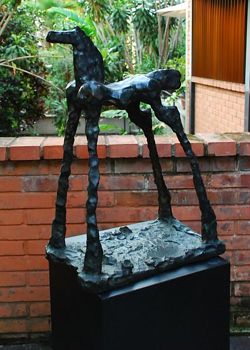 Sculptor and painter. Son of writer Alfredo Armas Alfonzo, National Literature Prize 1969, and Aida Armas (esmaltista). He begins his narrative activity as a sculptor in 1973, at age 16. In the first sample (Ochre Room, Caracas), his pieces appeared, according to Juan Calzadilla, more open "to the expressiveness material rather than the virtuosity of the form" (1973). In 1977 he received the Award Cucumber Acquavella in the V National Youth Caracas. By this time, is studying the Cegra with teachers as Manuel Espinoza and Alirio Palacios. In 1978 he received a scholarship from the French government and travels to Paris, he studied sculpture and printmaking at the School of Decorative Arts in Nice (1978-1980), at the School of Fine Arts in Paris and later in the graphic arts Superior School of Decorative Arts. Alongside done internships at the School of Fine Arts in Paris with the sculptor Etienne Martin, one of his most influential teachers. Returned to Venezuela in 1981 and studied at the Neumann Institute until 1983, when he resumed his studies at the Cegra, to graduate in 1984. The work of this versatile artist is founded on freedom technique, languages and genres, and the breakdown of the styles. Thus, two trends can be denoted in the development of his sculptures: first, in the seventies, primarily figurative works performed by the cast in bronze, where representations of horses and human beings are predominant.
After his stay in France, is turning to abstraction, works with works carried out primarily for metal rods, iron and aluminum that bend and twist, to compose a network of lines that create three-dimensional drawings in space. Of his work at this time Dovecote Federica wrote: "informalist imposing character of the work: the process of break-resistant naked matter comes to constitute the work itself, marked by violent exertion. The figures obtained are varied, and their density [...]. In the course of the decade [of the eighties], the spokes are acquiring certain order and tranquility "(1997). In an interview with Carlos Cruz-Diez in 1985, Enrico Weapons describes these works as "concentrations": volumes are also transparent mass. An example of these pieces is the Monument to the iron (700 x 180 cm), with whom he won the competition for a monumental piece Fundametal (Valencia, Edo. Carabobo, 1983). In 1989 returned to figuration with the technique of wax or clay, and later cast in bronze. In 1990, brings together more than 30 horses from 1989 to 1990 in the exhibition "Bronze Horse" (Gallery One, Caracas). His creations have no fixed dimensions, but between the figurative and the abstract, we see a further development of works of small and medium format on the big screen. Repeatedly participates in the Hall Arturo Michelena, which is awarded three times. Internationally he has participated in group exhibitions in France, Hungary, Colombia, United States, India and Spain. As a graphic artist lithographs and serigraphs made that has been included in many exhibitions. He has also dabbled in art ephemeral, as the installation for the Castillo San Carlos Borromeo (Pampatar, Edo. Nueva Esparta, 1984), whose interest lies in the area common materials (sand, wood, remains of boats, shells, etc..), which relate to the viewer in a space other than the everyday.
In 1992 his first solo shows of paintings at the Art Gallery of Caracas today. According to Juan Carlos Palenzuela, artist, painting, as in sculpture, "passes either abstract to figurative art and vice versa" (1992). Arms works with oil and acrylic on canvas, sometimes incorporating collage. Palenzuela adds "active space remains the subject of Weapons" (op. cit.). During a 1998 exhibition, "The color to privacy" Palenzuela describes the evolution of the artist in this genre: "surely, Enrico Weapons seeks, among other things, a polyphony of color. It is not subtle timbres, transparent, as I remember those of 1992, but are now compact, abrasives, with brief lights that are like lightning. Color texture, in a few ranges and from there on various records [...]. Painting a space saturated yellow superimposed on color strength, fillings that reach the eyes and in the midst of all this, figures, trees, bottles, horse-like image persistence, of the imaginative, of the festive in the fire "(1998). Armas has transcended traditional spaces dedicated to art, museums and galleries, creating works of various sizes to be exposed outdoors in various public places, inside and outside the country. In February 1999, presented the exhibition "With Strings" (Braulio Salazar Gallery), more than 50 works covering all stages and styles as an artist. In 2001 he represented Venezuela in the Festival of Cagnes-sur-Mer (France).
SOURCE: VVAA, Biographical Dictionary of the visual arts in Venezuela, 2 vv. Caracas National Art Gallery Editions, 2005.