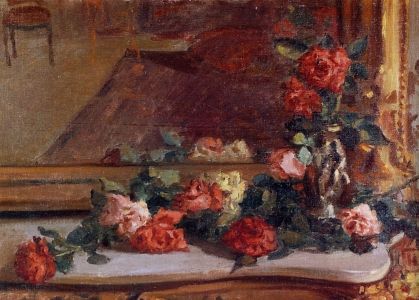 Born in Caracas, in May 17, 1878; died in this same City in July 25, 1932.
Studied at the Hamburg institute of commerce and at the Academia de Bellas Artes of Caracas, also begun to study engineering at the Universidad Central de Venezuela. Was a pupil of Arturo Michelena, in 1896. In 1889 travels to Europe, (Germany) sent by his father, to study trading and mathematics, he was 11 years old at the time. His inclination for drawing probably came from his love for mathematics. In 1893 returns to Caracas, and continues his Engineering studies in the Universidad Central de Venezuela to please his father.
In 1898 performs his first paintings, with a strong influence from Michelena. In 1899 The Academy Awards his work "Isaac Blesses Jacob". In 1902 moves back to Europe staying there to 1903. The Belle Époque Paris has very importance in the life and works of this painter. In 1912 The Circulo de Bellas Artes is founded, establishing a new era for Brandt. Painting with Mutzner, he passes momentarily through an expressionist period.
He is represented at the Museo de Bellas Artes.
Single Exhibitions:
Ateneo de Caracas, 1933
Fundación Mendoza, Exhibition hall, 1956
Museo de Bellas Artes, 1950 and 1972
Awards:
Painting award, Academia de Bellas Artes Contest, 1899