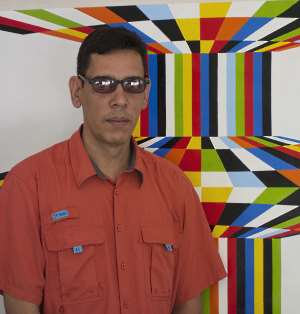 Born in Ciudad Guayana in 1973. The son of an educator and a nurse is the fifth son He studied Electronic Engineering at the Institute of Vocational LMT, specializing in Instrumentation and Control Systems Process and Project Management , Industrial Production and Management of Civil Works.
His professional life sits in a first stage in basic industries of Guayana, such as Orinoco Iron and Steel "Sidor" Siderurgica del Turbio "Sidetur" Aluminum Venezolana "Venalum" where improvement projects running systems production, then, in a second stage of their professional activity, undertaken in the world of construction traffic solutions, housing and educational infrastructure across the width of the national territory.
In his artistic evolution, is formed by the hand of Venezuelan Masters like Victor Antonioni, Francisco Bourne, Leonardo Acosta and Jason Galarraga, actively participating in design and manufacture of works of different trends and drawing on both the theoretical conception as the practicality of technical artistic execution, working with different materials and disciplines.
In the News live in the City of Caracas where he shares the workshop with Master Jason Galarraga.